Situated in the 16th arrondissement, Brach Paris is a chic boutique hotel amidst a timeless district. Within the bourgeois facade, the property has an arty design infused with welcoming touches, contemporary accents, and luxurious amenities.
For a unique and romantic retreat within the hotel, the Henri Suite offers 60 square meters/645 square feet of space ideal for two people to relax in the "City of Light". Featuring private access to the kitchen garden, the suite has 1930s furniture and decor infused with raw and natural materials reminiscent of Brach's modernist inspiration. Opening to a spacious terrace, the suite showcases a private Norwegian wood hot tub with exclusive Eiffel Tower views. Learn more about the property below the Henri Suite photo.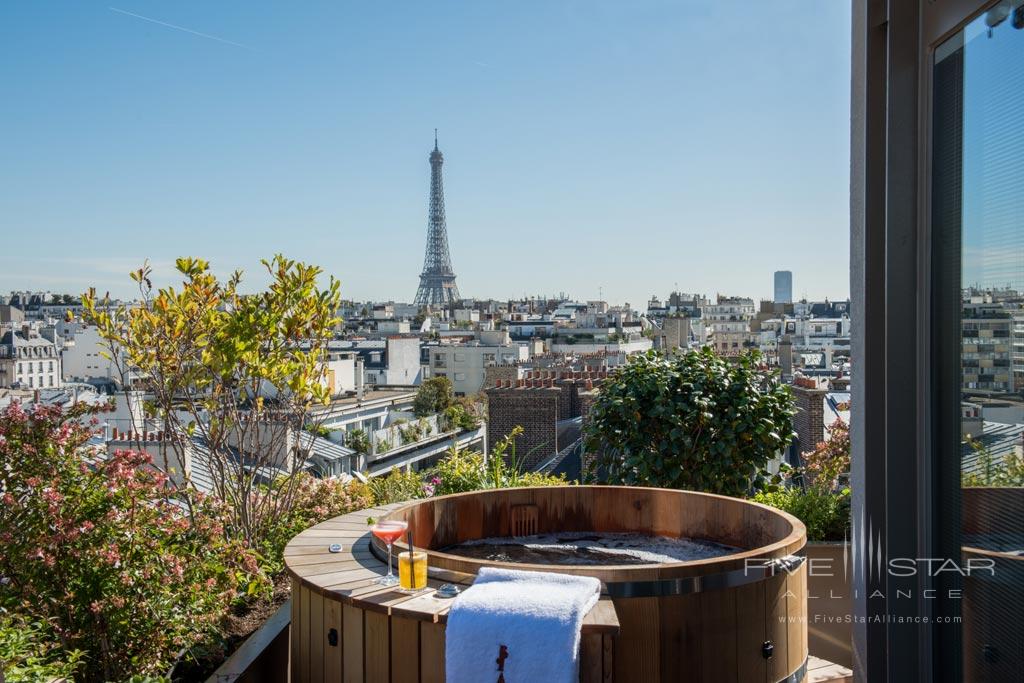 Set on the 5th and 6th floors of the Brach Paris, the hotel offers 7 suites, each with a decor of wood, leather, glass, and stone, accented by unusual objects, a selection of art, and a plethora of books and novels. Providing guests with a Parisian lifestyle, suite guests receive exclusive access to the rooftop's kitchen garden. Butler service and BMW i3 are available, and the suites can connect with each other for professional or private events. Continue reading below the photo.
Within the Brach Paris, there's dining that combines executive chef Adam Bentalha's science background with Mediterranean flavors, as well as a cocktail bar, and Patisserie by Yann Brys. Plus, masterclasses in cooking, painting, and gardening, along with a sports club featuring an indoor pool, hot tub, fitness center, hammam, sauna, Himalayan salt cave, and barber shop.