Seeking beautiful beaches, gastronomic experiences, archeological ruins, and one-of-a-kind sunsets? Join us on this Featured Journey: Greek Island Escape highlighting luxury resorts on three of Greece's top islands: Santorini, Crete, and Zakynthos. Each island offers its own unique adventures, historic sites, and beaches for enjoying the Greecian vistas.
Known for blue-domed churches, donkey rides, and cliffside whitewashed homes, Santorini is the destination for one-of-a-kind Greek sunsets. Visitors seeking some time in nature, hiking from Fira to Oia showcases panoramic caldera views, while a boat trip to the volcano provides an opportunity for a therapeutic dip in the sulphur hot springs. For history enthusiasts, Ancient Thira has Greek, Roman, and Byzantine ruins, Akrotiri is a Minoan town from 1650 B.C. that was preserved under lava until 1967. Fira is the place to go for authentic tavernas and ouzeries where appetizers are washed down with Greek aniseed-flavored liquor, Ouzo. Wine lovers will want to go to the vineyards of Megalohori and Pyrgos for the dry white Assyrtikos and the amber-colored Vinsanto.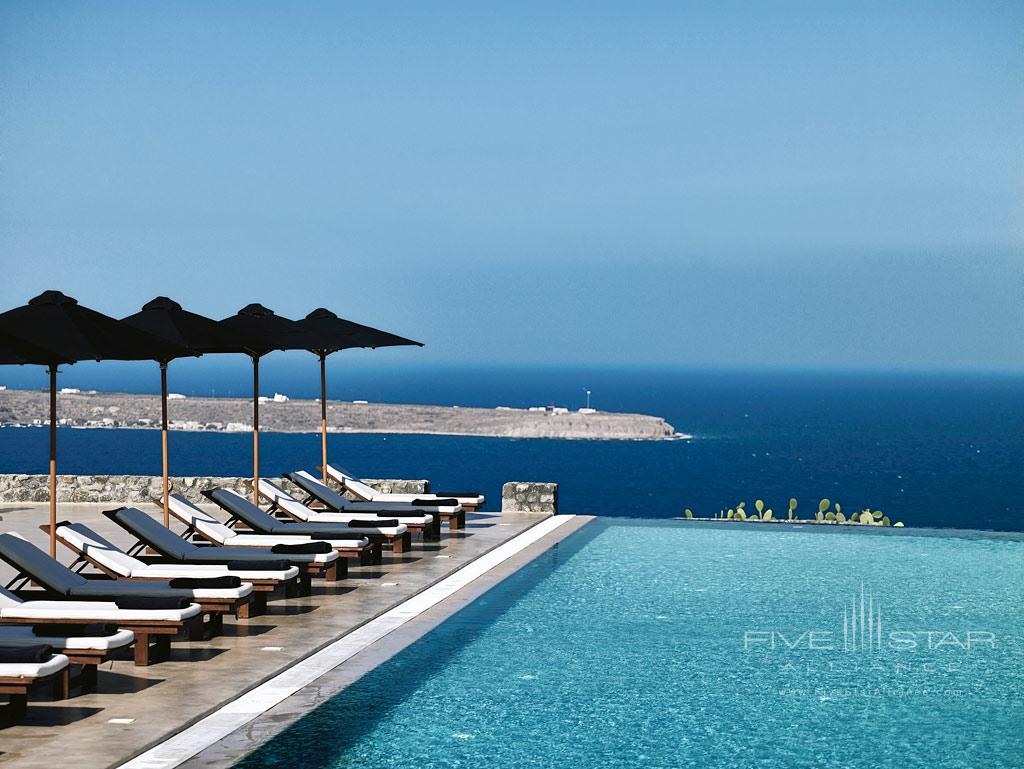 Amidst the picturesque alleys and whitewashed domed suites, Santo Maris Oia Luxury Suites & Spa is an architectural retreat offering spacious accommodations, each with kitchenettes and private verandas with Jacuzzis and sun loungers. Guests can have a five-star gastronomic experience at Alios Ilios Restaurant serving fine modern Greek cuisine, and the Royal Spa is an award-winning facility with outdoor gazebo spa services and an indoor heated swimming pool. For visitors looking to lounge poolside, there's freshly prepared Mediterranean-inspired snacks, cocktails, and signature drinks at the main infinity pool.
FIVE STAR ALLIANCE PERK: All reservations made through Five Star Alliance receive a complimentary cocktail per person/per stay, during sunset in the Romantic Bar, and a 15 minute spa ticket per person/per stay.
Check availability at Santo Maris Oia Luxury Suites & Spa
Explore more Santorini Luxury Hotels
Greece's largest island, Crete, is the fifth largest island in the Mediterranean Sea. Visitors to the island can explore beaches, discover remnants of ancient civilizations, taste the island's gastronomic culture, or admire the mountainscapes. The island is the cradle of Minoan civilization, the birthplace of Zeus, and offers an expanse of scenery where travelers can go from the palm groves of Vai to the top of the snow-capped White Mountains all in one day. Food here is straight from the land and sea, with an emphasis on tomatoes, strawberries, watermelons, cheese, and yogurt. The Palace of Knossos is home of the legendary Minotaur where travelers can discover the Minoan world, the Archaelogical Museum in Iraklion is home to Minoan palace treasures, Gortyna is home to Greek remains, and throughout the island minarets and mosques reflect 250 years of Ottoman Turkish rule.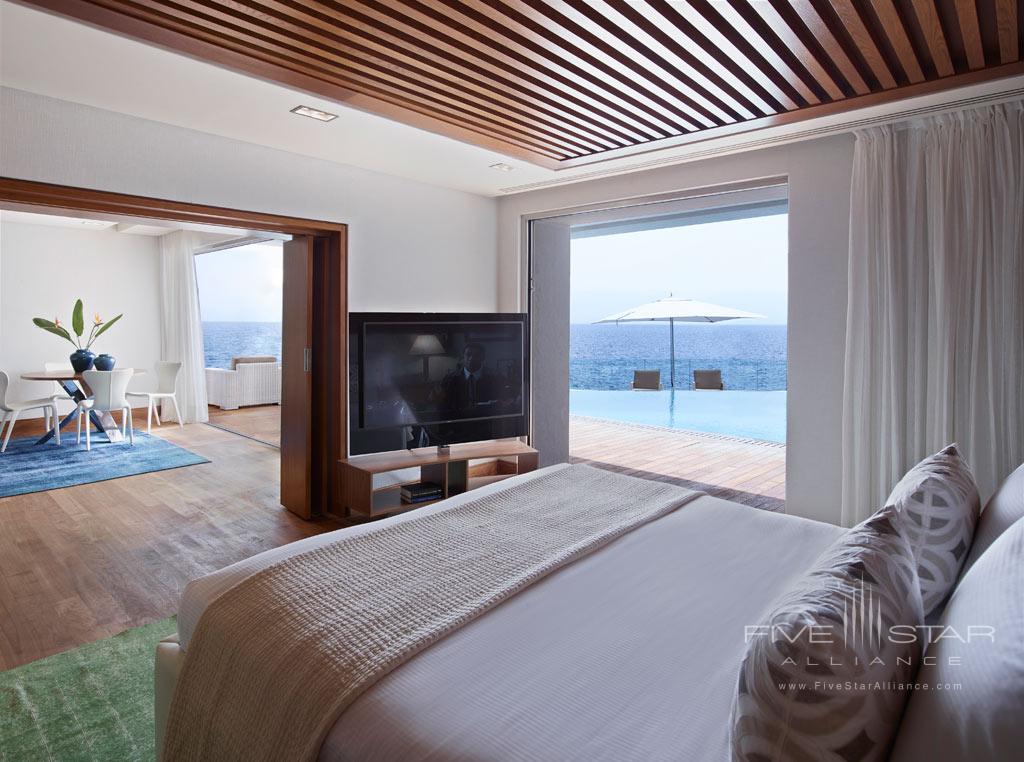 From its romantic wedding chapel to its six restaurants, Elounda Beach Hotel and Villas is a luxury property overlooking Mirabello Bay. Set upon 40 acres of colorful gardens on the island's northeastern coast, the property consists of several mini-resort-like clusters including the Yachting Club offering state-of-the-art bungalows with electric sliding glass doors and retractable television screens, while the Ambassador's Bungalows have private gyms and multi-room villas for families. For revitalization, Espace Vitalité Chenot focuses on a holistic approach to rejuvenation and relaxation with body and facial treatments, ancient traditions with Chinese medicine, and scientific advances. Plus, there are supervised programs for kids and teens, a scuba diving center, art gallery, and tennis.
FIVE STAR ALLIANCE PERK: All guests making reservations made through Five Star Alliance will receive the following complimentary amenities: a welcome seasonal fruit and beverage in the room upon arrival; full use of gym, sauna, hammam spa, and tennis courts; WiFi; and accommodation for children 0-8 years of age sharing with parents. For guests staying a minimum of five (5) nights, a 50 Euro voucher per adult, per stay will be available at The Espace Vitalité Chenot Elounda Beach Spa.
Check availability at Elounda Beach Hotel and Villas
Explore more Crete Luxury Hotels
Known for its stunning beaches, Zakynthos is an island offering a range of natural beauty. Also known by its Italian name, Zante, the island's top beaches can be found along the southern and southeastern shoreline. Visitors seeking forests and rural villages should venture inland to explore the island's forests, wilderness, and traditional villages. For truly picture-perfect scenery, head to the rugged west coast where the limestone cliffs cascade into turquoise waters.
Showcasing a beachfront setting, Porto Zante Villas and Spa is an all-suite property offering luxurious villas with private pools, paintings by prominent Greek artists, Armani Casa furnishings, and bathrooms with Jacuzzi bathtubs, separate showers, and Dionysian antique marble. The waterfront Spa and Thalassotherapy provides rejuvenating treatments, while the fitness center by Technogym has state-of-the-art exercise equipment. For dining, Maya restaurant provides a beachfront setting for contemporary Asian cuisine, and the Club House Restaurant showcases an exclusive setting for Greek cuisine.
FIVE STAR ALLIANCE PERK: Guests booking through Five Star Alliance receive a bottle Champagne and Fruits upon arrival, freshly prepared breakfast, complimentary kids entertainment and complimentary butler service.