Pooling our Resources: The 10 Best Hotel Pools in the World
---
 After reading CNN's own list of great hotel pools, we decided to put our heads together and write up our thoughts on the matter. Who has the 10 best hotel pools in the world? To truly know, you'll have to visit yourself and see. But these are certainly our favorites.
10. The Banyan Tree Seychelles
With the simple application of basic mathematics, the Banyan Tree has figured out how to improve upon the tried and true concept of the private pool: By giving its two-bedroom suites two private pools – and what a sight they are. That's the kind of thinking I can get behind.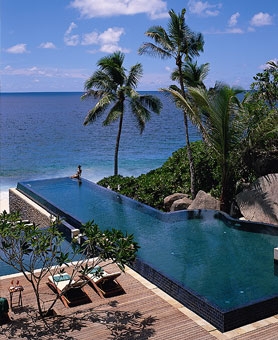 9. Le Palais de la Mediterranee, France
Le Palais de la Mediterranee in Nice rolls in at number 9 with its incredible 3rd floor indoor/outdoor pool. Just feet from a sun terrace with a gorgeous view of the Mediterranean, this is a pool that was tailor-made for lounging. If to you a vacation means leaning back, lowering your sunglasses over your eyes and relaxing the afternoon away, then this is the hotel for you.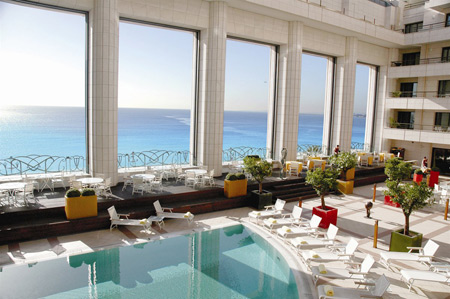 8. The Berkeley, London
While some other pools may be more spectacular, as you'll see in a moment, none offer the same level of comfort year-round as The Berkeley rooftop pool in London. The heated pool features a wonderful open-air swimming experience in the summer, but unlike most hotels, when it gets a bit colder, you don't have to take the party inside. The Berkeley instead rolls out its retractable roof, and you can now enjoy the comfort of a perfectly climate-controlled rooftop pool in winter.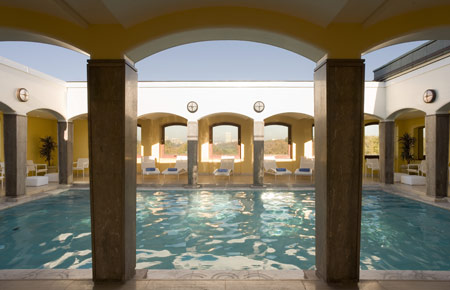 7. Villa d'Este, Italy
The pool at Villa d'Este on Lake Como would make Archimedes blush. Floating above the very lake that the Villa rests against, the pool features a built-in Jacuzzi and fantastic view of the surrounding mountains. It's like swimming in the lake just inches below your feet, but it's always the perfect temperature.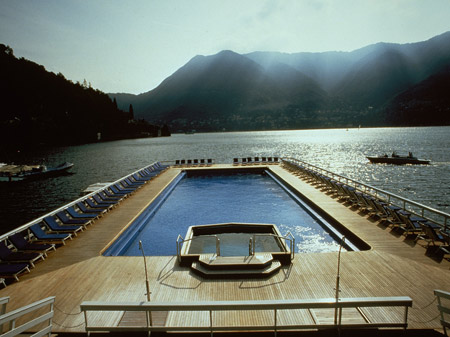 6. Blue Palace Resort and Spa, Crete
The Blue Palace Resort and Spa is truly deserving of its sixth place finish, and really if we were fair it'd be on this list twice. The aptly-named Blue Palace is renowned for the private pools that come standard with most of their rooms and suites. With pools up to 40 sq. meters in size for just you and your companion(s), there couldn't be a more private or luxurious swimming experience. And if that weren't enough, the Blue Palace is famous for its unique Grecian Thalassotherapy, which combines the relaxing powers of a world-class massage with water-cleansing rituals guaranteed to revitalize your body.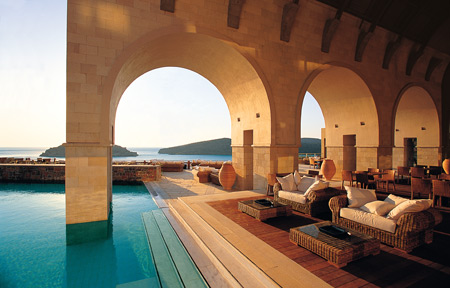 5. The Library Koh Samui, Thailand
In this case, the picture speaks for itself. The Library Koh Samui is built around the innovative concept that a vacation is about relaxation and people should be allowed to free their minds from stress by engaging in the simple pleasures of cracking open a book and enjoying the company of their family or friends. They've also turned their pool red - which is both surreal and strangely captivating, like green ketchup or a fish riding a bicycle.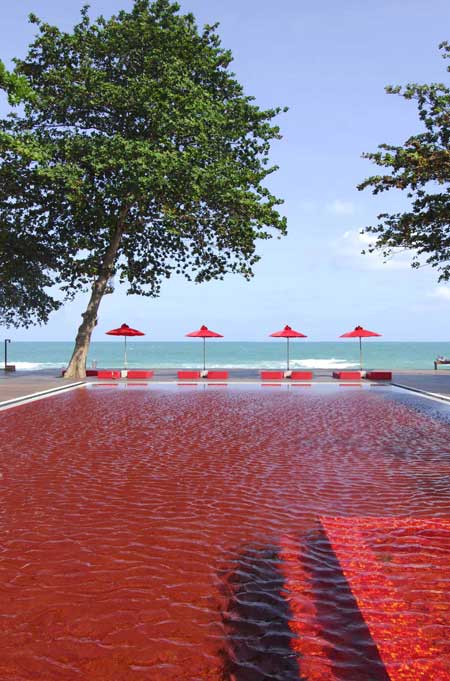 4. Rawi Warin Resort and Spa, Thailand
The 1000 sq. meter infinity edge pool at Rawi Warin looks as if the water is fading into the ocean, with only little beach umbrellas poking above the water line to let you know that it doesn't go on forever. The illusion is compelling and gorgeous. As if that weren't enough, Rawi Warin also has Asia's first ocean swimming pool, extending 100 meters into the water and allowing you to swim with the fishes in an entirely literal way.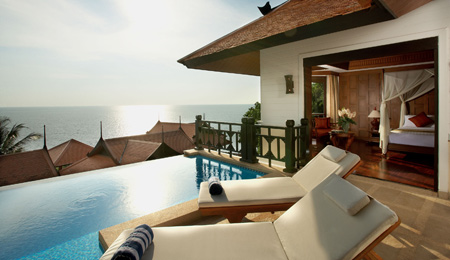 3. Palazzo Sasso, Italy
The Palazzo Sasso has one of the more innovative designs for a hotel pool we've ever seen. Situated on the edge of a cliff 1000 feet above sea level, the pool at Palazzo Sasso offers underwater windows with a view of the sea below, thus discovering the heretofore unknown condition of subaqueous vertigo. But seriously, it is the single most impressive thing I've seen at the bottom of a pool.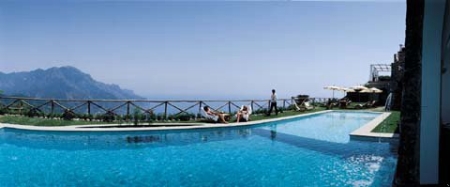 Atlantis the Palm Dubai may just be the best thing ever. If you got all the things together in one place, and made me pick, I'd say, "I want that thing. It looks like the best thing." So what is this thing I'm so excited about? Well, it just might be a standard luxurious hotel pool, only it's attached to a full water park! I don't bandy about with exclamation points lightly, but this seems to be worth one. If you, like me, have ever thought, "wow, this vacation is really relaxing, but what I'd really like is to go launching out of a ziggurat at high speeds into a pool of water," then this is the destination for you. And even more than that, much of the hotel is themed around this aquatic experience. There are underwater mazes, a four-and-a-half hectare dolphin habitat, and something they just call Aquaventure.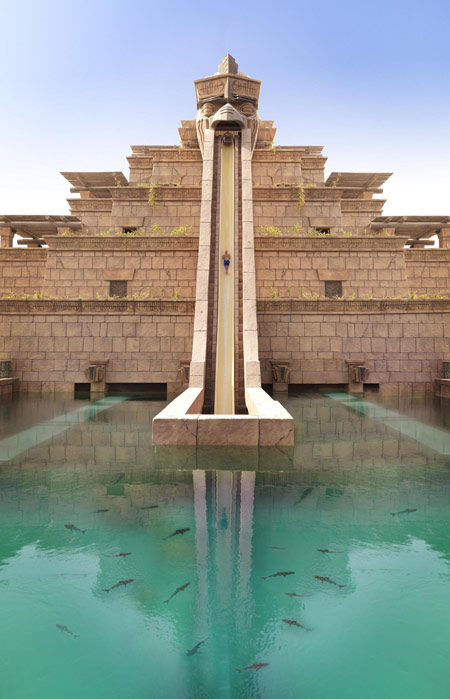 Occasionally, a feat of engineering comes along that's so remarkable, you have to doff your hat to the architects of its design. The Marina Bay Sands Infinity Pool in Singapore is more like what would result if Leonardo da Vinci were in the hotel business. Resting 200 meters above the ground in the Sands SkyPark, the Infinity Pool is as breathtaking as it is surreal – the edge of the pool seems to fade into the horizon itself. Swimmers are greeted with a panoramic vista unequaled anywhere. Without a doubt, the Infinity is the coolest hotel pool we've ever seen and not just for the breeze.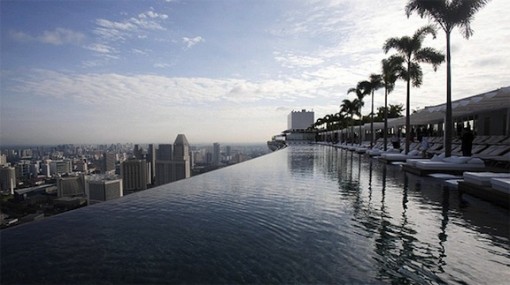 So throw on your swim trunks and book a room at any of these amazing hotels (maybe in the other order), and soon you'll be enjoying the sun by some of the most amazing pools in the world.
---

Related Hotels