Mauna Lani Hotel Is Pretty Great. I'm Just Sayin'
---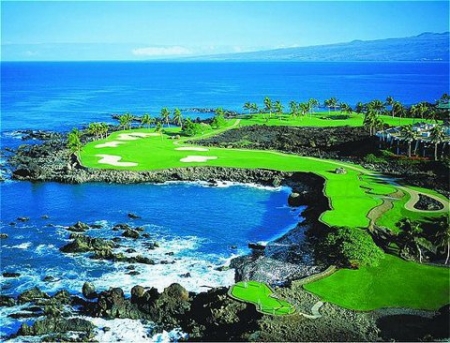 Quiet! Do you hear that rustling? What is that there in the leaves?  Ah, ha! Got it! It's the elusive combo hotel, and I'm showing it to you now, live, on national television for the first time.  And what a beauty she is...Look at those greens, those bungalows, I've never seen anything like it.  You can tell from the way she lies there that's she cold-blooded, all that lying around in the sun.  
Now what exactly is a combo hotel? It's an incredibly descriptive term that I've just now invented to explain the incredibly elusive bungalow hotel that is also a golf resort.  Now, normally when you think of bungalows, you get lost in an afternoon of daydreaming, but then you remind yourself that you were actually trying to remember where you might find them, and then you think of the Maldives, the native habitat of the quiet and reserved bungalow hotel.  And then you imagine a golf resort, and it carries you across the world to Scotland, or any of the mainland courses from Kiawah Island to Pebble Beach. The Mauna Lani Bay Hotel and Bungalows is a holy union of these two concepts, bungalow housing with breaktaking ocean views and a golf course that hugs the shores like it loves them more than its own mother.  
For the gender normative family, Mauna Lani's two championship golf courses give the guys a place to play while the children enjoy the Mauna Lani Camp and disinterested spouses relax at one of the "World's Best Spas" according to Travel & Leisure magazine.  A less stereotypical family might send the men to the camp, the women to golf and the children to the spa, but I'm pretty sure that violates some kind of age requirement.  Either way, you're sure to have some fun at the Mauna Lani, and I haven't even mentioned the farm-to-table dining at the Canoehouse, their signature restaurant.  I better stop now before I get carried away.  I've probably already oversold the place, and now they're going to be booked up when I try to reserve.  To get in before I do, just head on over here to check availability and learn even more about the Mauna Lani Bay Hotel and Bungalows.
---

Related Hotels