Spotlight on Sedona Rouge Hotel and Spa
---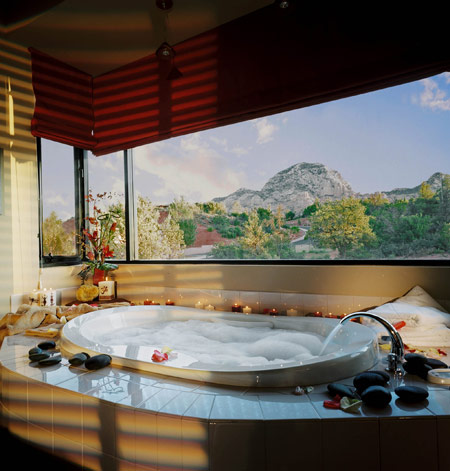 The Sedona Rouge Hotel and Spa is ideally located only one mile away from Thunder Mountain trailhead, the entrance to Red Rock Country, and hundreds of acres of Coconino National Forest. Sedona is renowned for its numerous energy enhancing Vortex site locations, which many believe help facilitate the exploration of the soul. The Spa at Sedona Rouge embraces Sedona's natural energy, making it a prized destination for relaxation, healing, and wellness. 
A spa service at Sedona Rouge entitles guests to the use of the hot tubs, steam rooms, fitness center, and swimming pool. Guests are encouraged to arrive early and stay late to enjoy all the spa's amenities. There's also a morning yoga class for an additional fee. 
Services Include:
Custom Massage and Bodywork - The spa's certified massage therapists are devoted professionals, well versed in many bodywork modalities including Reflexology, Cranial Sacral, Cupping Massage, Myofascial Release, Lomi Lomi, Thai Massage, and traditional Ayurvedic services. 

Body Treatments - Body treatments are rituals with rich butters, invigorating scrubs, detoxifying herbal wraps, and mesmerizing scented baths that are locally hand-crafted with both indigenous and exotic botanicals. Customized massage harmoniously and synergistically completes each body treatment ritual.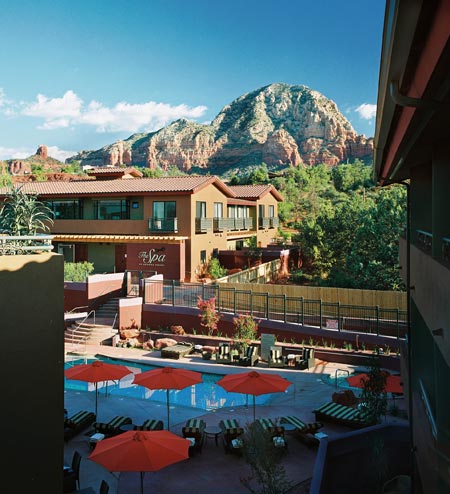 Couples Treatments - A Couple's Massage provides each person with their own therapist to perform customized bodywork while sharing the mood of relaxation with a friend or loved one. Twin Flames is a couples bathing and massage ritual conducted in a candle-lit room scented with rose petals. It begins with a massage tailored to enhance the energies between the couple. Then the therapists leave the room, allowing the couple to enjoy a romantic, candle-lit bath for two.

Facials & Esthetic Services - Experienced estheticians tailor each facial according to each person's unique needs. Offering highly effective skin care products along with extractions, steam therapy, and acupressure massage, the goal of each facial is to promote radiant, healthy skin.

Wellness & Intuitive Discoveries - Offering Psychic Readings, Tarot, and Spiritual Acupuncture, the Spa at Sedona Rouge facilitates a Sedona journey to self discovery.
Ayuvedic Services - Consultations, Ayuvedic Warm Oil Massages, Shirodhara & Marma Point Therapy, Herbal Body Scrub &Wrap, Nasal & Sinus Therapy, and Heart Chakra Healing are all available.
Spa Rooms & Suites - Spa guest rooms are located inside the Spa at Sedona Rouge, away from the main hotel lobby. Most spa guest rooms feature in-room large soaking tubs in the living area. Located inside the Spa at Sedona Rouge, the two-room suite features a soaking tub in the main living area with a pull-out sofa bed and private bedroom and bath.
Happy relaxing!
View rates, details, and more images Sedona Rouge Hotel and Spa >>
Share this article:
---

Related Hotels