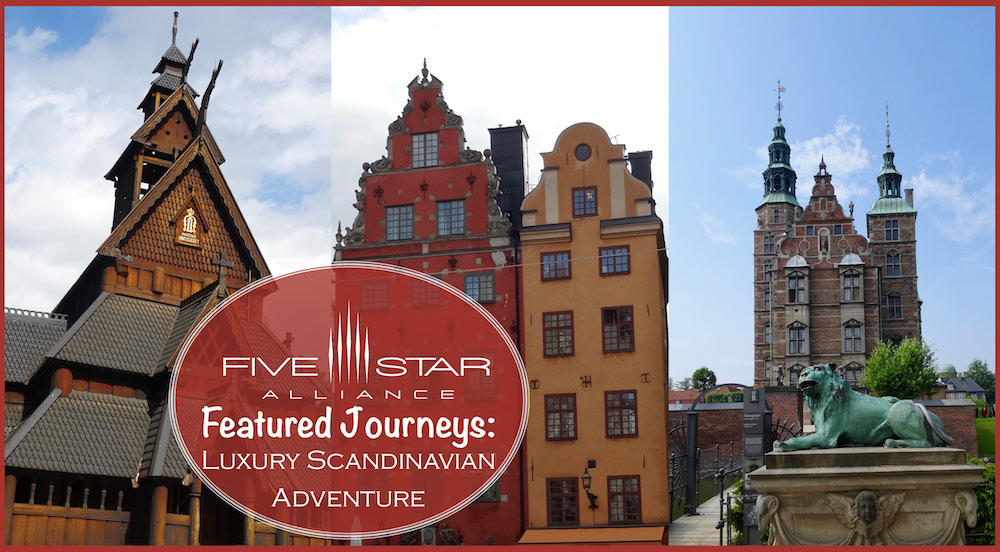 The newest edition of Featured Journeys takes us to Scandinavia. Land of the Midnight Sun, home of the Vikings, birthplace of Nordic cuisine, and recognized for modern design, the region offers a treasure trove of museums, historic sites, outdoor adventures, and cultural attractions. Recently, I had the opportunity to go on a 10-day excursion to Oslo, Stockholm, and Copenhagen. In this Featured Journeys: Luxury Scandinavian Adventure, I'll share a Luxury Hotel Insider's perspective with details on where I stayed along with highlights in each city.
Easily connected via high speed rail, venturing between Scandinavia's capital cities takes about 5.5 hours between Oslo and Stockholm, as well as Stockholm and Copenhagen. Trains are modern and clean, with on-board meal options. If you prefer to fly, there's a variety of direct flight options as well, but traveling by train provides an ideal way to see the landscapes while en route to the next stop. If time allows, I'd recommend at least four nights in each city, perhaps additional nights if you'd like to venture out of the city to explore all of the outdoor adventures each country offers.
As Norway's capital city, Oslo is a walkable city with a mix of modern design, such as the Norwegian National Opera House & Ballet where visitors can walk on the roof, and historical sites like the Akerhus Castle. Within the past decade the harborfront has been revitalized, providing a lovely pedestrian-only waterfront area with the Nobel Peace Center, and a variety of restaurants offering plenty of outdoor dining options. From the harbor, visitors can take a short ferry boat ride to Bygdøy, the island of Oslo museums. Home to the royal family's summer palace, the island of museums offers a wide variety of options including the Viking Ship Museum, Fram Museum with the actual ship that traveled to the Artic, Kon-Tiki Museum, and the Norwegian Folk Museum with an open-air setting and 150 historic buildings on display from various times in the country's history. For art enthusiasts, there's the Edvard Munch Museum, the National Gallery with a nice selection of works by well-known artists, including Norway's own Edvard Munch's "The Scream", and the 63-acre Ekeberg Sculpture Park. Along Karl Johans Gate there's the Royal Palace, as well as upscale shopping and sidewalk cafes (during the summer months), and the Holmenkollen Ski Jump and Ski Museum is a must-visit on a clear day for panoramic views of the city and surrounding area.
Interested in seeing the famous fjords? From Oslo it is possible to take a "Norway in a Nutshell" trip from Oslo to the fjords with a visit to Bergen, and a ride on the famous Flam Railway.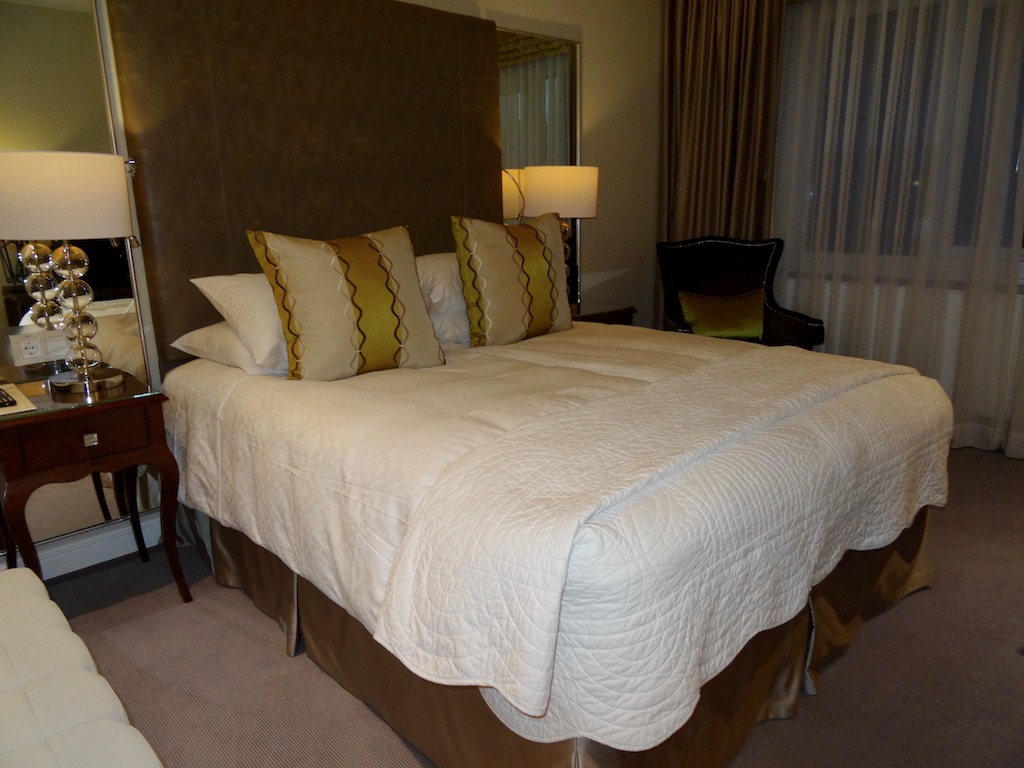 During my visit, I enjoyed an Idyllic Stay at Hotel Continental Oslo. Providing a centralized location, the historic luxury hotel was a short walk to the harborfront, and just steps away from the National Theater, Karl Johans Gate, subway, and light rail stations. Since opening in 1900, Theatercaféen offers upscale dining and a bar, while Eik Annen Etage serves classic dishes in a Baroque-infused atmosphere. There's also the seasonal Steamen sidewalk cafe, and a recently revitalized fitness center.
Check rates at Hotel Continental Oslo
Explore more Oslo Luxury Hotels
Set along the Baltic Sea behind a natural fortification, Sweden's capital city consists of 14 islands connected via 54 bridges. In the Gamla Stan (Old Town), the Royal Palace has a daily military parade and changing of the guard along with four museums and a chapel, the Nobel Museum tells the story of the prestigious award, there's Parliament tours, and guests can meander about the island filled with Medieval architecture. Stockholm's Djurgården, offers gardens and a variety of museums including the Vasa Museum, which showcases a 17th century warship raised from the seafloor after it sunk minutes after its first departure, the Skansen open-air folk museum, and the Nordic Museum. For relaxation, there are a variety of canal tours where visitors can see the city via the canals, as well as trendy sidewalk cafes ideal for people watching and trying Toast Skagen, a local delicacy with a mixture of prawns and shrimp mingled with mayonnaise and herbs. Not to be missed is the Swedish Fika, a traditional coffee break to mingle with friends and enjoy coffee with a sweet roll such as the Vetebullar with cinnamon and cardamon.
During my Springtime Stay at the Hotel Diplomat Stockholm, I was able to easily explore the city on foot. Set along the Strandvägen, the hotel is a short walk along the boardwalk past cafes and boats to the Djurgården. Overlooking the Nybroviken, Deluxe Sea View Rooms offer exquisite views of the water, and the hotel's restaurant and bar provide a stylish setting for breakfast, lunch, dinner, and Afternoon Tea. Built as a private residence in 1911, the boutique hotel was transformed into a luxury property in the 1960s, and features an extensive collection of art by Swedish artists, as well as the Hotel Diplomat Retreat--an exclusive and tranquil space for guests with a sauna, showers, and loungers available by appointment.
Learn more about Hotel Diplomat Stockholm
Explore more Stockholm Luxury Hotels
Across the Oresund Bridge from Sweden, Copenhagen is Denmark's capital city. Featuring a walkable core, the city offers historic points of interest like the Nyhavn with waterfront cafes and bars, Amalienborg Palace and Square with a changing of the guard, and Kastellet Park with an Anglican Church built of flint, and The Little Mermaid statue in honor of local author Hans Christian Andersen, as well as the Rosenborg Castle of Christian IV. Biking is the preferred method of transit, with biking lanes throughout the city and many hotels offering bicycles for guests to use during their stay. There are cafes and Michelin-rated restaurants scattered throughout the capital of Nordic cuisine, Tivoli Gardens is a seasonal playground for Danes of all ages with gardens, rides, and performances, and the Ny Carlsberg Glyptotek showcases Egyptian, French, Greek, and Etruscan art under glass domes with indoor gardens. For shopping, the Strøget--Europe's longest pedestrian-only shopping street offers the finest brands interspersed with kitchy boutiques and local designers. While visiting, be sure to try the Danish art of Hygge, which is the idea of taking a moment either alone or with someone to be present in something cozy, charming, or special.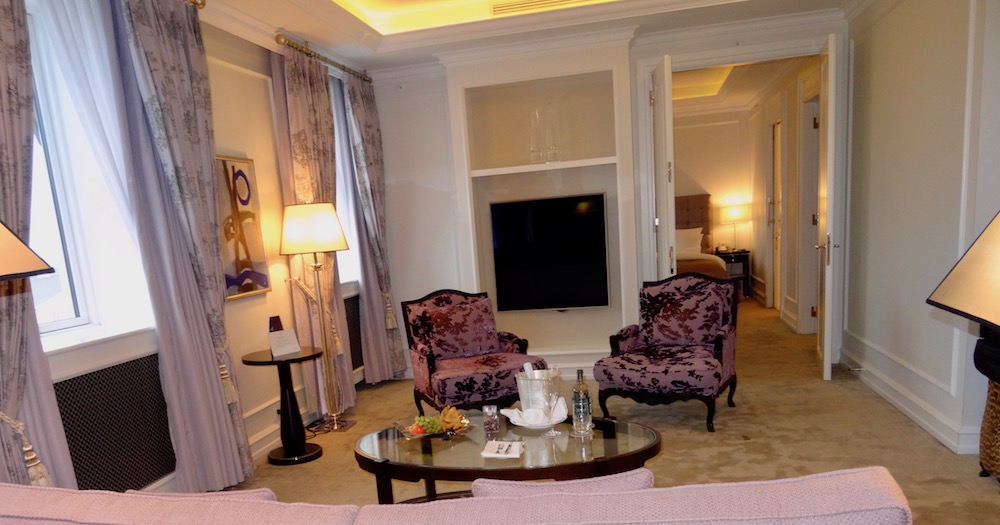 While in Denmark, my stay in a Deluxe Suite at Hotel D'Angleterre Copenhagen provided an ideal location for exploring the city. Right on Kongens Nytorv (King's New Square), the hotel was next to the National Theater, and adjacent to the famous Strøget lined with department stores and upscale boutiques. Within the hotel there was the Amazing Space Spa with an indoor pool, saunas, and treatments utilizing exclusive natural products, as well as the Michelin-awarded Restaurant Marchal with fine dining and Kongens Nytorv views. Plus, the Balthazar Champagne bar with a chic setting, Champagne-focused cocktails, and exclusive entry for guests.
Check availability at Hotel D'Angleterre Copenhagen