Hotels with an Edge: Burj Al Arab in Dubai
---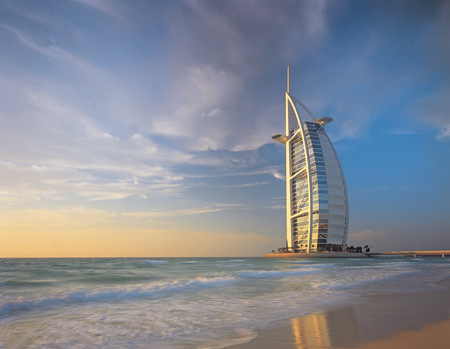 In today's competitive world, everyone needs a way to stand out from the crowd. Luxury hotels certainly are no different and are always looking for ways to outshine their competitors and attract more visitors. We understand that our travelers look for the best of the best, and we would like to introduce you to our blog series, Hotels with an Edge. We'll be highlighting and featuring a few hotels we feel truly stand out and offer their guests more than is expected. Be sure to check in with us to explore various hotels that deserve recognition for their supreme levels of luxury.
Today's featured hotel is the Burj Al Arab located in Dubai. This luxury hotel has received a significant amount of recognition and has quickly become one of the most famous luxury hotels and one of the most photographed structures in the world. Its unique architectural design has caught the eyes of travelers, making it easily distinguished from all other hotel properties. It is designed to resemble a wafting sail; this all-suite luxury hotel soars 321 meters and dominates the Dubai skyline. It is illuminated at night by choreographed lighting representing water and fire, and it has a private beachfront, opportunities to embark on a desert safari, and some rooms offering phenomenal views of the Arabian Sea.
Explore this luxury hotel and make your reservations here! Be sure to keep up with our blog series for a little inspiration on where to stay next!
---