World's Largest Aquarium Opens in Atlanta
---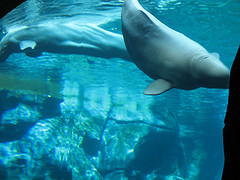 By Nathan Stone
As summer beach season gets underway it's natural to ponder all the amazing creatures that inhabit the oceans. In November 2005, Atlanta opened the doors to the world's largest aquarium, offering a chance to see an amazing array of ocean inhabitants without the scuba gear. Home to over 120,000 aquatic creatures living in over 8 million gallons of water, the massive 200 million dollar aquarium boasts five areas each representing a different ecosystem. The largest exhibit is the Ocean Voyager, which begins with a ride down a curving moving walkway through an acrylic tunnel where stingrays, sharks, and many schools of brightly colored fish appear to fly overhead. The tunnel leads to the main theater, which has a gigantic viewing window.
The aquarium has exceeded all attendance expectations and purchasing time-reserved tickets online is highly recommended. The aquarium is located in Atlanta's Olympic Park near downtown. Both the Four Seasons Atlanta and Ritz Carlton Atlanta are nearby. JavaJive is perhaps the town's hippest brunch spot, offering gingerbread waffles set in an old-style ice cream parlor setting complete with vintage 1950s appliances.
For aquarium lovers, another massive aquarium that will compete in size with Atlanta's is being constructed in The Dubai Mall in Dubai. Other notable aquariums in the U.S. include Shedd Aquarium in Chicago, and the Monterey Bay Aquarium.
Additional images from my trip can be found in The Informed Traveler Flickr Group.
Enjoy!
---