What's Up With the Ducks at the Peabody Hotels?
---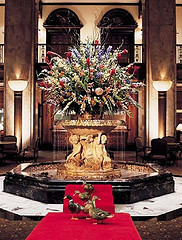 After late nights pondering the question, I've finally found the answer. Novelist Jay McInerney-- with his sarcastic wit and true command of the South and all things Southern-- describes the Peabody Memphis in his book The Last of the Savages:
I think it was Faulkner—usually a safe bet in these matters—who said the Mississippi Delta originated in the lobby of the Peabody. Certainly no one would have mistaken this for the Boston Ritz-Carlton, or for the Plaza in New York. That curious and beguiling southern blend of ease and formality were in the air—that rhythm oscillating between languor and hysteria. The lobby was thronged with revelers in evening dress... Young women in ball gowns wafted about the two-story lobby, while their male counterparts lurked in corners, conspiring and breaking out into sudden fits of suppressed hilarity. These young swains applauded as a tiny man in livery marched the ducks from the fountain in the center of the lobby across the floor and into the elevator en route to a pen on the hotel roof. The ducks were the descendants of a batch of live decoys—or so Cordell Savage once told me—which had been dumped into the fountain one afternoon by a band of liquored-up hunters fresh from the duck blind who wanted to continue drinking at the hotel bar.
So much for the ducks' noble origins.
The Peabody Memphis, Official Site
The Peabody Memphis, Five Star Alliance
---