Tired of Romance? Go to Edmonton!
---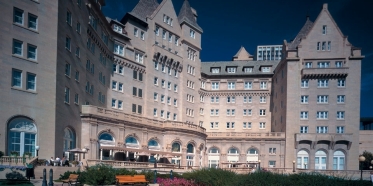 Most people want romance on Valentine's Day, but sometimes when thing just aren't going our way, that's the exact opposite of what we seek. So I figured I'd save you some time and find the most un-romantic place on Earth. First a couple ground rules: I ruled out anywhere that is currently in the midst of major turmoil, and I fully acknowledge that ANYWHERE can be romantic if you're with someone you love. So take all this with a grain of salt. Now without further ado, the most un-romantic place on Earth is Edmonton, Alberta, in Canada.
And before they get their lawyers ready to sue me, let me state for the record that the lack of romance doesn't mean a lack of luxury. Nor does it mean a lack of adventure, in fact quite the opposite, Edmonton is filled with adventure. The skiing is top class, in fact all the winter sports are unrivaled in this part of Alberta, with the Canadian Rockies within sight from any vantage. Winter sports, of course, dominate this part of the world, especially with a day time temperature of 18 degrees as I write this. Fahrenheit, mind you, and if you don't think being frozen is so bad, Edmonton just might be right for you.
Again, though, this is for the adventurous, and Edmonton has adventure in a more temperate setting: The West Edmonton Mall. Before you scoff, let me point out that this is not just any mall. In fact, it's the largest in North America and boasts not just a full-sized amusement park, not just a waterpark, not just a miniature golf course designed to look like Pebble Beach, not just an indoor aquatic habitat for sea lions that includes a replica of Christopher Columbus' Santa Maria, but also a bowling alley, arcade, movie theater, pool hall, and performance arena that some of the world's hottest acts have graced. That goes along with more than 800 stores and restaurants. I'm almost out of breath as I type this!
And while the West Edmonton Mall is incredible, and worth the visit, it's hardly romantic. But it sure is fun!
There are two hotels worth your time in Edmonton, and I can't recommend them highly enough. The first, alphabetically of course, is the Fairmont Hotel Macdonald, a luxurious property that will fulfill all of your un-romantic notions (and gosh darnit, if you must, a few romantic ones too). Built in 1915 and resembling a French castle, this Chateau on the River will charm you from the word go.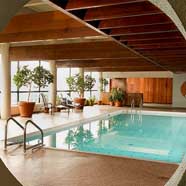 Also in Edmonton is The Sutton Place Hotel. Modern and warm, this sultry property will indulge your every whim. For the highest rollers in the audience, ask for the Royal Suite, a two-story indoor palace.
Finally, if you're dead set on romance, you can always take a short drive to Banff, where the Post Hotel in Lake Louise will knock your socks off! I suggest keeping them on, though, as it gets a wee bit chilly in the Great White North.
As they say in Canada, "Have a nice trip!"
Editor's Note: Disagree with our writer about Edmonton? Let him know in the comments section below why you think Edmonton is romantic, or where you think the least romantic destination might be...
---