Sutton Suite at the Loews Regency Hotel New York
---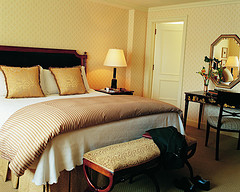 I recently spent a long weekend in New York City and had the pleasure of staying at the
Loews Regency Hotel
on the Upper East Side (61st and Park Avenue to be specific) in their Sutton Suite - suite number 2126. My pictures didn't come out nearly as nicely as their promotional photo (see right), but I can attest to the fact that the photo is an accurate representation of the Master Bedroom.
The Sutton Suite is a two-bedroom suite located on the 21st/Penthouse floor of the hotel. Both bedrooms provide King size beds - one bedroom with a view West towards Central Park, and the other with a terrace and views of Park Avenue. A total of 2.5 baths, full sauna, kitchenette, 2 terraces, dining area, and separate den round out the Sutton Suite. The feel is much more of a private apartment then a hotel room, but with all of the amazing amenities of the concierge and in-room services.
What is even more amazing about the two-bedroom suites at the Regency are the costs. A standard Superior King room at the Loews Regency is $489 per night with 225 square feet and a courtyard view. The lowest standard rate for a two-bedroom suite is $1129 and provides 1300 square feet. That's a little more then twice the cost for more then 5 times the space - plus views of Park Avenue and kitchenettes, dens, additional beds and bath ... It's amazing how much more you get for not much more price. And trust me, the additional amenities, space, views, and more are really worth the extra cost.
So if you are going to the Regency and plan on booking two rooms, it makes much more sense to book the two-bedroom suite then to request 2 connecting rooms.

The weekend was rainy, and the pictures didn't turn out nearly as well as they could have to do the room justice, but you can see copies of the photos I took on Flickr and in The Informed Traveler photo group.
PS - During my visit, Donny Osmond was the featured show at Feinstein's and the upcoming performers for May are Linda Eder and Harvey Granat so check out all the details here.
---