Spies Among Us: Spy and Stay Package at The Madison, A Loews Hotel
---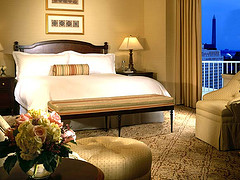 Everyone's talking about the superb "Spy and Stay Package" at
The Madison, A Loews Hotel
, in Washington DC. The
New York Daily News
recently highlighted it as a
deal of the week:
operatives are given a secret agent name and a safe house to stay (in undisclosed rooms) and can explore the world of espionage at the
International Spy Museum
, featuring the largest permanent collection of international spy-related artifacts on public display. The package includes luxurious overnight accommodations at
The Madison
(located in the heart of the capital just a few blocks from the White House and National Mall monuments), two VIP Special Access tickets to the museum, breakfast to energize the operatives, and two movie passes to Regal Cinemas to see the newest spy movie, "Get Smart." Priced from $270.07; available through December 30, 2008.
---