Spa Treatments for Kids: The 'Alice in BW Land' Cabana at L.A.'s Beverly Wilshire
---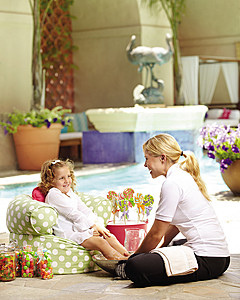 While their grateful parents lounge by the pool or hit the spa this summer, pint-sized guests of the
Beverly Wilshire
can indulge in spa treatments of their own at the "Alice in BW Land" Cabana. Children and teens can take a break from poolside fun and stumble into their very own rabbit hole at the Cabana, where a variety of whimsical spa adventures await. Check 'em out:
Alice – Yes I am very fond of tea. Be tea party ready with this pink facial treatment, which includes a facial cleanse, facial massage and mask. A soothing scalp massage and lip scrub complete the treatment.

Mad Hatter – What is the hatter with me? Don't be as mad as the hatter - relax and clear the mind with a calming scalp massage followed by a shoulder massage to loosen tight muscles.

Cheshire Cat – But I grin and bear it. Show off a beaming smile like the Cheshire Cat with this yummy lip treatment, which includes a lip scrub and mask. Cooling eye pads are applied while enjoying a scalp massage. A shiny lip gloss concludes this delightful treat.

Tweedle Dee & Tweedle Dum – How do ya do and shake hands, shake hands. Walk hand-in-hand with Tweedle Dee and Dum while enjoying this hand treatment. Enjoy a sugar hand scrub followed by a soothing hand massage. A mask is then applied and hands are wrapped in mitts. As a finishing touch, a shimmer lotion gives the ultimate tea party glow.

White Rabbit – Oh dear, oh dear I shall be so late. Hop in for a relaxing foot bath. A flavored exfoliation is applied to soften the feet, followed by a mask. A massage is what every rabbit needs when running late.
Of course the kids are treated to cupcakes and tea after their treatments. The 'Alice in BW Land' Cabana is open daily from 10 am to 6 pm; reservations are recommended through the Spa.
---