See the Sinking of the USS Vandenberg in Key West: Stay at the Casa Marina Resort
---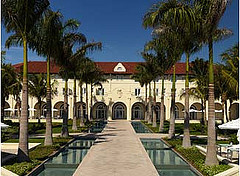 Besides the $149 room rates at the spectacular
Casa Marina Resort
, there's another reason to jet down to Key West. The city is preparing to sink the Gen. Hoyt S. Vandenberg, the historic warship, for its second life as an artificial reef and major underwater attraction. After an 1,100-mile trip from Norfolk, the Vandenberg arrived in Key West-- the southernmost point in the U.S.-- on April 22 where it is now anchored at East Quay Wall at Truman Waterfront. Slated to become the second largest artificial reef in the world, the "Vandy" will be sunk sometime between May 20 and June 1,
about seven miles south off Key West in 140 feet of water in the Florida Keys National Marine Sanctuary.
(All of the ship's pollutants and contaminants have been removed.) While in Key West, enjoy a taste of tropical living on the island's southern edge at the
Casa Marina Resort
-- the legendary landmark that has over 1,100 feet of private beach, a rarity in Key West.
---