Seattle's Best: Don't Miss a Stay at the Pan Pacific Seattle
---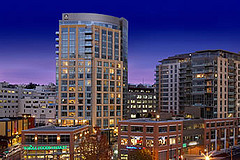 Named as one of the "Hottest Hotels in 2007" by Conde Nast Traveler, the 160-room
Pan Pacific
has made quite the splash on the Seattle scene. Amenities at this elite, urban destination are sophisticated but what really has tongues wagging is the incredible hospitality (
just check out the rave reviews on Trip Advisor
). They've introduced the concept of the "total stay experience," designed to provide service and amenities
tailored for each individual guest
. The Pan Pacific's motto? "Of Course...It's Your Stay." You'll even find
pet concierge service
here. The focal point of the 2200 development at the gateway to Seattle's South Lake Union neighborhood, the
Pan Pacific
features Hirsch Bedner designer guest rooms with sweeping views of the Space Needle, South Lake Union and downtown Seattle. Stacked with luxurious amenities and state-of-the-art technology, these rooms are downright lavish. Hypnos beds, Egyptian cotton bedding, Herman Miller chairs, HD plasma televisions, complimentary Internet, and four-fixture bathrooms with oversized tubs, separate showers, plus a shoji screen-style wall to open the space into one large master suite.
And every request is fulfilled at the touch of a button
. Talk about indulgence. Buzz: Later this month, the
Pan Pacific
will open the new Vida Wellness Spa, the first U.S. location for this luxury spa company.
---