Savor and Explore the Chesapeake Bay: A Program for Teens at Loews Annapolis
---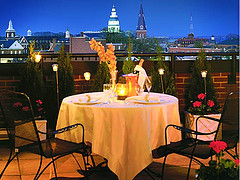 Loews Annapolis Hotel
makes it easy for teens and their 'rents to have a good time hanging out together-- without the drama. The only AAA Four Diamond hotel in Annapolis,
Loews
has created a program for you and your teens to explore the neighboring Chesapeake Bay (
and taste its famous seafood with a crab feast!
) and learn about important conservation efforts. In partnership with the Chesapeake Bay Environmental Center, the special program has teens restoring the Bay. The "Savor and Explore the Chesapeake Bay" adventure is a two-night package and includes accommodations with breakfast daily. (Don't worry, teens will enjoy their own connecting double guest room). You'll choose an exclusive guided experience, either "Exploring the Food Chain in the Bay Waters" (available seasonally) or "Learning about Bay Region Birds" (available throughout the year). During the day, you'll have four boxed lunches provided by the hotel. You'll get your own private cooking class preparing crab cakes with the hotel's chef, and a crab feast at Harris Crab House for the whole family (up to $150 value). Plus, your teen will receive a one-year membership to the Chesapeake Bay Environmental Center, a CBEC polar fleece and baseball cap, and will become a sponsor in the "Adopt a Raptor" program. Valid now to December 31, 2009. Rates start at $1,750.
---