Sanctuary on Camelback Mountain Gives You the Great Estate Escape
---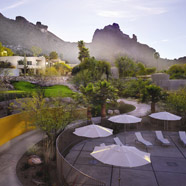 Planning a summer getaway with a large group can prove to be very frustrating. On top of worrying about there being activities and amenities to please everyone, there is also the matter of room size and occupancy. Most rooms will accommodate three at best, and with a large group, you may or may not get connecting rooms, or even ones close together.
Sanctuary on Camelback Mountain
has come up with a great, and surprisingly affordable, offer that should prove to be a real crowd pleaser. Set among the lush foliage of Camelback Mountain, this contemporary boutique property is a peaceful, luxurious refuge away from everyday life. With Arizona's largest infinity-edge pool, an award-winning restaurant, and a fifteen treatment room spa, relaxation and comfort should never be hard to achieve.
Now through September 13th, Sanctuary on Camelback Mountain will be offering the Summer Estate Escape. Starting from just $750 USD per night, almost half of what they normally go for, these private, mountainside estates are the perfect option for a group gathering. With up to 5,500 square feet of luxurious space, the Estates also include four bedrooms, floor to ceiling windows, and an outdoor hot tub. A personal butler and private luxury vehicles are also available upon request, and of course, guests of these mountainside homes will still have full access to the resorts facilities and amenities. Whether it be a weekend or a month, Sanctuary on Camelback Mountain invites all families and friends to give their private estates a try. With such reasonable rates and fabulous amenities, their offer should prove to be a winner across the board.
---