Ritzy the Nesting Duck Checks in to the Ritz-Carlton Georgetown
---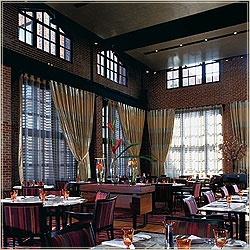 She's back. For the sixth year in a row, the VID (Very Important Duck) has returned to the
Ritz-Carlton Georgetown
to nest in a planter box in the hotel courtyard.
As we reported in 2006
, the mother duck and her brood caused such a sensation among hotel guests that the chef at
Fahrenheit
had to remove duck breast from the restaurant menu. The duck was served bottled Ritz water and cracked corn in silver Ritz bowls, guests received Ritz-Carlton rubber duckies on their pillows at turn-down, and the hotel bartenders created a special cocktail called "Duck Duck Goose" in her honor. As
highlighted by Luxist
, "Hotel Security provided 24-hour service and offered velvet ropes and stanchions to keep curious guests at bay" during Ritzy's recent sejour at the
Ritz-Carlton
. And seven ducklings hatched just in time for Mother's Day...
Related Articles:
Baby Hedgehogs Born in the Lobby of a Five-Star Edinburgh Hotel
---