Renovated Mandalay Bay Guest Rooms
---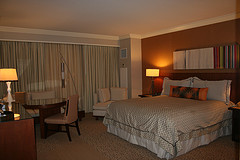 Last month I had the chance to spend 3 days at the
Mandalay Bay Resort and Casino
in Las Vegas. Amazingly, they've totally renovated all of the guest rooms since the last time I stayed (August 2004) and upgraded all of the rooms and the amenities - the
older floral bedspreads
that are no more. You can view all of the
photos I took of my renovated room (23114)
and get a better idea of what the new design offers.
The best part of the new look and feel? 2 flat screen televisions, floor-to-ceiling windows, strong wireless internet (for a fee of course), iPod docking station, friendly housekeeping and front desk, great closets and floor space. Plus the rooms generally feel and look nice to be staying in.
The cons? Because the television is so high-tech (multiple interactive channels, internet, etc), it is painfully slow to flip through the channels or find what you want quickly. This is a problem I've had at some of the best hotels - and hopefully is just a matter of time until hotels get wise to a fix. The only other con was that the bed was incredibly soft. I don't just mean kinda soft, I mean fall through the mattress soft. There was a huge down pillow-top on the mattress which was overstuffed and for that reason, pretty uncomfortable. The solution? You can take it off, but that means making the bed again for yourself. Or of course you can ask room service to do it before you arrive - which I highly recommend.
With some of the least expensive rooms on the strip when compared with comparable 4 star hotels, Mandalay Bay was well worth the price - and all guests will appreciate the renovated look and feel.
---