Reasons to Love The Jefferson Hotel Richmond
---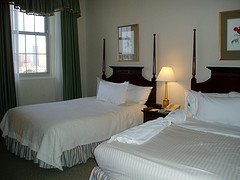 I stayed at The Jefferson Hotel in Richmond, Virginia on the night of July 15th in Guest Room 606 (a deluxe room). I admit I got an awesome rate last minute and because I have a travel agency IATA card (for full disclosure I must mention that), I got a nice rate, but it wasn't free and I made no promises about my reviews. Now I'll cut to the chase and just list for you all of the good (and maybe bad) things to consider on your trip to Richmond.
* The rooms (at least all of the ones I saw) are HUGE (ceilings are tall, windows are large, and the closest had tons of space).
* The city of Richmond is not the absolute greatest view to have -I am not saying it's not bad)- but most importantly - none of the rooms at The Jefferson have views that are into walls, parking garages, or anything like that.
* The hotel pool is indoors, which might be nice in the winter, but Richmond is incredibly hot and in the summer a nice outdoor pool would be really, really nice.
* The Sunday Brunch is everything, plus more, that you've heard about.
* Again, let me say, Richmond is really, really hot in the summer.
* The employees are some of the best I've ever come across (they couldn't have been more helpful).
* I was able to walk to all of the locations I wanted to visit while in Richmond, but if I didn't want to the hotel would have provided a town car free of charge.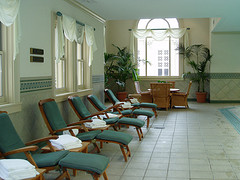 * Although not associated with the hotel, the Shockoe Slip area of Richmond is a lot of fun and has great restaurants.
* The guest rooms have a strange layout and you can never expect two rooms in the same room category to be exactly equal - but that is because the hotel was built in 1895.
* It is really hard to get reservations for the Sunday morning brunch - so make sure you reserve early.
* Make sure to ask for a non-smoking room if you don't smoke - you're in tobacco country.
The end result is that I definitely want to go back. I traveled from the DC area (which prices for everything are much, much higher) and wouldn't mind spending two or three weekends in the fall, winter and spring in the Richmond area. Rates for this five star hotel are lower then you will find in more places - yet provide you with some of the best services I have experienced. You may not think you have a reason to visit Richmond, but The Jefferson is it.
More candid photos from the trip can be found in my Richmond, VA Photoset on Flickr.
---