Plaza Athenee New York Penthouse Suite
---
by Courtney W. May
and
Karen Goldberg, Director of Sales & Marketing, Hotel Plaza Athenee New York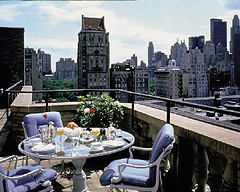 The Hotel Plaza Athenee is a small, charming European boutique-style hotel located on 64th Street at Madison Avenue. In 2006, Conde Nast Traveler featured the Hotel Plaza Athenee as "One of the Top Hotels in the World" on the Gold List. For those looking for a 'discreet location' in Manhattan, ecspecially on the fashionable Upper East Side, they need look no further then the Hotel Plaza Athenee's Penthouse Suite. Yes, that's right - we are once again writing about a luxury, high-level, freakishly huge and overdone suite at a five-star hotel in New York City.
In Hotel Plaza Athenee's Penthouse, free time not spent in the solarium, on the balcony, or their office alcove, can be spent indulging in the finest shops of the neighborhood. Also nearby is the Whitney, Frick or Museum of Modern Art. Not to mention all of the noteworthy restaurants where our the concierge staff will gladly secure your reservation.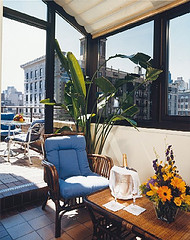 Hotel Plaza Athenee New York Penthouse Suite
Location: The hotel is on the Upper East Side of New York City - on 64th between Madison and Park Avenue, one block from Central Park. The pale yellow decorated suite is a two-story duplex apartment located on the top two floors of the hotel - the 16th & 17th.
Size: 1972 square feet or 184 square meters.
Living Room: On the Suite's first floor, the 16th, the living room includes a decorative marble fireplace. The lower level also contains a pantry, formal dining room that seats 12, a ½ bathroom and an office alcove off the living room and the connecting second bedroom.
Master Bedroom: Spiral staircase leads to the second floor of the penthouse with full master bedroom, full bath and walk in closet, wrap around terrace and atrium.
Balcony & Atrium: Connected to the Master Bedroom, the balcony has a planted private terrace which runs half the length of the hotel. The atrium is a sun-drenched indoor space with rattan furniture.
Rate: Currently, the one-bedroom Penthouse Suite will run you about $3,900 per night, plus tax.
Fun Fact: The hotel's exterior is shaped somewhat like a pyramid - the higher up you go, the less space you have and the less numbers of rooms you get on each floor.
Hotel Plaza Athenee New York, Five Star Alliance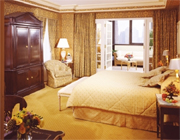 Related Articles: "Park Avenue Suite at The Regency in New York City", "The Carlyle Hotel in New York City (Re)Opens The Royal Suite", "The Triplex Penthouse at the Time", and "Suite Escapes: the Mandarin Oriental New York Celebrates its Taipan Suite".
Don't forget, if you make your reservation with Five Star Alliance for the Hotel Plaza Athenee, you get the "Special Offer from Five Star Alliance: Afternoon Tea for two (2) with pastries and tea sandwiches once during your stay."
---

Related Hotels