Philadelphia Zoo Celebrates 150 Years: Stay at the Loews Hotel for a Song
---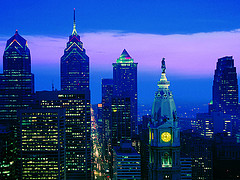 Since March 31, 2009, the Philadelphia Zoo-- America's first zoo-- has been celebrating its 150th birthday. They're not settling for just
one
birthday bash, but instead, they're holding a year-long party to commemorate "an occasion this wild."
Here's how the zoo describes
the historic year of 1859: "Charles Darwin published The Origin of Species, Charles Dickens published A Tale of Two Cities, and the Commonwealth of Pennsylvania signed the charter establishing the Zoological Society of Philadelphia--the very first of its kind in this country." Take the fam to Philly and stay at the luxurious
Loews Hotel
, where we've found room rates for less than $130 on select dates
when booking with Five Star Alliance.
Housed in the landmark PSFS Building, the first skyscraper ever built in the City of Brotherly Love, the Loews Hotel gets rave reviews for its elegant rooms and personalized service.
---