Park Avenue Suite at The Regency in New York City
---
From Gary Stram, Director of Sales & Marketing, The Regency, A Loews Hotel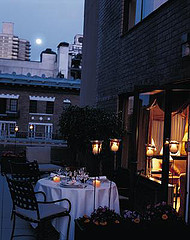 Continuing our theme of highlighting luxury suites in New York City (see posts for the Taipan Suite at Mandarin Oriental and The Royal Suite at The Carlyle) we present to you the 'Park Avenue' Suite at The Regency, A Loews Hotel.
Park Avenue Suite
Rate: $3,500.00 per evening, plus applicable taxes
Sq. Footage: 1625 sq. ft.
Rooms (not including bath): 4
Bathrooms: 1 and 1/2
Interior Designer: Connie Beale
Note Bene: The suite offers views of the city on its private outdoor terrace.
Official Description:
The Park Avenue Suite offers views of the city with a private terrace. Connie Beale, Interior Designer, used aqua and red schemes throughout the suite for a traditional feel like a Park Avenue apartment. The main doorway enters into a lovely living room overlooking the private terrace with a custom-made mahogany desk and beautifully appointed matching chairs, coffee tables and couch. The den has a more clubby and cozy feel featuring comfortable leather chairs with a matching couch. Book cases filled with the Classics as well as a built-in television and entertainment center are highlighted. The dining area is large and has a kitchen attached for those who would like to entertain on their own. The outdoor terrace is also ideal for entertaining due to its size and furniture with a gas grill. The bedroom also looks out on the terrace with authentic artwork. The room is very spacious with its own bathroom, seating area, and private outdoor balcony.
The Regency, A Loews Hotel, Official Site
The Regency, A Loews Hotel, Five Star Alliance
---

Related Hotels