News from the Southernmost Point in the U.S: Pier House Resort, Key West Gets a Makeover
---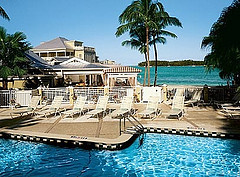 Come October 2008, the historic
Pier House
will begin a new life after a $10 million renovation of all guest rooms. The one-of-kind property in free-spirited Key West has been a choice tropical destination since its renovation into a hotel in the 1960s. No two bedrooms are alike in this vibrant hideaway, now appointed with custom-designed furniture and flat-screen TVs. Bathrooms have been redesigned to offer more space and rain showerheads. Throughout the
hotel's
history, local conchs, including Jimmy Buffet, have
frequented the restaurant and "flagship hotel of the Key West state of mind."
The resort has a killer location at the foot of Old Town, steps from Duval Street. But the private pool and lush gardens create a quiet oasis away from the
crazy
lively ambiance for which Key West, the southernmost point in the US, is famous.
---