New Unlimited Activities Program at The Homestead Resort
---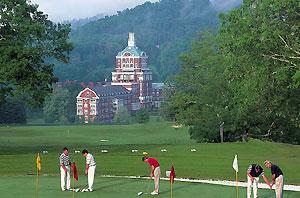 From falconry to fly-fishing,
The Homestead
has it all. Since the 1700s, the destination resort in Virginia's Allegheny Mountains has drawn visitors (including George Washington and Thomas Jefferson) to its famous hot springs. Today the tradition continues as families head to the mountains to frolic in the ultimate outdoor playground with over 3,000 acres of diversions.
The Homestead
has just announced an "Unlimited Activities Package" so that you can indulge in limitless recreational activities-- canoeing, horseback riding, paintball, bowling and more-- for just one rate. Starting at $275 for accommodations and all activities for two people, the package also includes entrance to the resort's Jefferson Pools. Available through December 22, 2009. Additional adults and children over six are welcome to share the room for an extra $50 per person per night.
---