Lego Mania in New York: Lego Replica of the Newly Renovated Jumeirah Essex House
---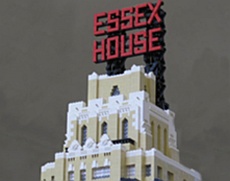 Lego fans will want to make a pilgrimage to Manhattan to check out an enormous Lego model-- crafted from 62,160 Lego bricks-- of the
Jumeirah Essex House
, the 1931 architectural masterpiece on Central Park South. Standing eight feet high, this is the world's largest free-standing hotel model ever constructed out of Lego bricks. The replica was commissioned in honor of the hotel's recent 75 year anniversary and in celebration of the recent completion of its $90 million refurbishment program. Check it out in the
hotel's
lobby.
Here are some facts and figures:
• The overall dimension of the "to scale" model is approximately 1 m x 1 m x 2.5 m tall.
• Total weight of the Jumeirah Essex House model is 90 kg.
• More than 50 different types of Lego blocks, including plates, tiles, special elements, etc. were used in the construction of the model.
• A total of nine different colors were utilized in the completed model, closely resembling the actual shades of the building's exterior and façade.
• It took more than 212 hours for Mr. Hunter to design and construct the Jumeirah Essex House Lego model.
• The completed model features a total of 1,885 windows of varying sizes.
• The model contains two custom-built spotlights on top of the tower that illuminate the Jumeirah Essex House's renowned, historic and gigantic red-letter sign.
---