King Tut Has Arrived at the Field Museum, Chicago
---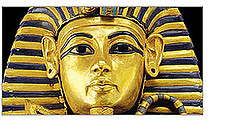 It's here. The spectacular, blockbuster exhibit-- Tutankhamun and the Golden Age of the Pharaohs— has arrived in Chicago, to dazzle visitors until January 1, 2007. This exhibit marks the first time in 26 years that the treasures of the "boy king" and the Egyptian pharoahs have traveled to America. The exquisite artifacts—over 120 of them—reveal the splendors of the 18th Dynasty, some 3,000 years ago. And many of these have never before left Egypt.
Take a look at the breathtaking golden diadem of King Tutankhamun. Witness a tender scene between Tutankhamun and his young wife, engraved in silver and gold. And most poignant of all, see the child-sized throne of ebony, ivory, and gold, from which the boy king ruled all of Egypt.

A special section of the exhibition explores the mystery of Tutankhamun's death using the marvels of modern CT scanning technology. And a realistic, life-sized bust made using data from these scans lets us look into the face of the young pharaoh for the first time.
It's best to purchase tickets ahead.
---