Kimpton's Summer Playground: Goodies for Just $10 More at Hotels like Philly's Palomar
---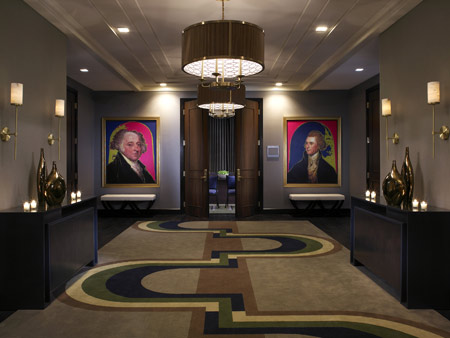 We're loving the "Your Summer Playground" promotion at all 50 Kimpton Hotels across the country. From the same innovative hospitality company that brought you
"Breakfast for a Buck"
comes a new offer that gives guests a bunch of goodies for just $10 more. Along with your deluxe room, you'll get special drinks (like sangria at the hosted evening wine hour), a $25 restaurant credit for every night of your stay, and a free in-room movie, complete with popcorn. For example: Stay at the
new
Hotel Palomar
in Philadelphia-- the only LEED registered hotel in the city-- and you can savor iced coffee in the morning, afternoon Arnold Palmers, sangria at wine hour, along with your restaurant credit and movie. Set in the heart of Center City Philly in the Rittenhouse Square neighborhood, this eco-friendly hotel is filled with original artwork and custom-designed furnishings. The hotel's restaurant, Square 1682, gets great reviews for its new American menu featuring organic ingredients. Also available:
The Hotel Palomar
is running the Summer Lovin' package with a
complimentary upgrade to a King Deluxe Room starting from just $149 per night.
The "Your Summer Playground" promotion is also available at luxury boutique hotels like the new Hotel Palomar Chicago, the Lorien Hotel and Spa in Alexandria, the Hotel Marlowe in Cambridge, MA, Nine Zero in Boston, the Sky Hotel in Aspen, Hotel Monaco in Portland, Hotel Solamar in San Diego, Hotel Palomar in San Francisco, Hotel Monaco Seattle, and 70 park avenue in New York.
---