Florida's South Seas Island Resort Opens H2Whoa!
---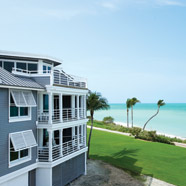 Captiva Island Florida is home to the delightful luxury property
South Seas Island Resort
. The hotel has just opened H2Whoa! Located at the north end of the resort, this third, tropically landscaped swimming pool offers water-filled fun for all. One end features a safe place to splash and play with the kids, or relax in quiet comfort. On the other end, waterslide excitement and adventure await! The Speed Slide propels riders down a 16-foot drop out into the deep water. Or, traverse the twists and turns of the Serpentine Slide. Across the pool, a beach zero entry area allows for young children to play in the shallow waters and behind it, the lush Hammock Garden is perfect for lounging and cooling off.
---