Fall Back in Time with Historic Hotels of America: The Peabody, Fairmont Copley Plaza, Waldorf-Astoria, and More!
---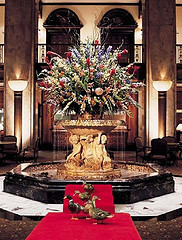 Here's a unique seasonal promotion to enjoy great destinations during their autumn best (with all the showy colors of fall foliage).
Historic Hotels of America
, a program of the National Trust for Historic Preservation, showcases 200 quality hotels that have faithfully maintained their historic architecture and ambience. Fifty of these hotels nationwide are participating in the
"Fall Back in Time"
promotion, so as we prepare to turn back the clocks, we can be sure to savor our spare hour in lavish surroundings. Take advantage of your extra hour by supping over candlelight, having a poker lesson, or reading complimentary cookbooks and coffee-table books. This package is available through November 30.
As an added bonus, participating hotels have also incorporated a special offering meant to commemorate the year in which they were built. For example, enjoy a fine bottle of wine with dinner for $18.88, take a long weekend and book a third room night for only $60, or sip martinis at their original 1928 price of only 20 cents.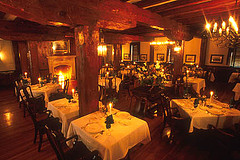 Fall back in time and book a great getaway at these storied properties. Here are some examples: La Valencia Hotel in La Jolla, California (where you'll get a La Valencia history book and breakfast-in-bed), Boston's Fairmont Copley Plaza (which offers a consultation with the hotel historian to develop a customized itinerary of historic Boston), New York's Waldorf-Astoria, The Peabody in Memphis (which provides a sumptuous dinner and coffee-table book), and Charlottesville's Boar's Head Inn, built from the timbers of an abandoned 1834 gristmill that survived orders to be burned by both Generals Grant and Custer during the Civil War.
Pictured: The Peabody Memphis (top right) and the Old Mill Room at the Boar's Head Inn (bottom right).
---