Deals in Las Vegas: Your Room Rate is the Same as the Forecasted Temp at The Venetian
---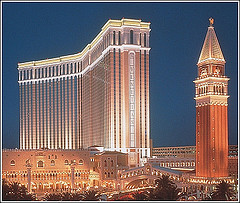 Things are heating up in Vegas. Celebrate the rising temperatures at the swanky favorite on the Vegas Strip,
The Venetian
, where today's forecast is today's rate! The average Las Vegas summer temperature is 103 degrees, which translates to a fabulous rate for a remodeled suite at this luxury property. You'll enjoy gondola rides on the Grand Canal, shopping sprees, top-notch live entertainment and restaurants, the Guggenheim, Canyon Ranch Spa and more. Here's how it works:
Find the forecasted high temperature in Las Vegas (as reported by weather.com) for the day of your stay. That temperature is your exclusive rate for a remodeled Venetian suite on select dates now through Labor Day. Hurry, you must book by June 27, 2008!
---