Choose the Ritz-Carlton Reynolds Plantation for the Masters at Augusta National
---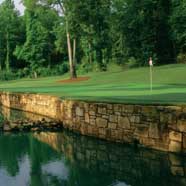 My first trip to the Masters Golf Tournament at Augusta National was during the final round in 1998. Mark O'Meara went on to win the title that year, but I was kept rapt by Jack Nicklaus who was making a late charge up the leader board. Nicklaus was 58 at the time, and fell short in the end, finishing tied for 6th place, but oh what a feeling it was to watch the legend make a last valiant effort at glory.
The amazing thing about this golf tournament, which is as prestigious as they come, is the proximity of the fans to the players. Nicklaus, Tiger Woods, O'Meara, and everyone else, were often only a few feet away, occasionally even interacting with fans as they walked the course. A veteran of many baseball and football games, I was awestruck at the nearness of the athletes and the civility of the golf course, and it made me an immediate fan of the duffers.
When I visit Augusta, I always stay at the Ritz Carlton Reynolds Plantation, a few miles down interstate 20 in Greensboro, Georgia. The Ritz-Carlton name speaks for itself, but this particular venture is ranked the best golf resort in the United States by Zagat! The links offered are on par with the spectacular course at Augusta National, making this not only a great golf hotel, but also a great Masters hotel.
If your wife insists on tagging along, the 4-star-rated spa, the only one in Georgia, will satisfy her every whim while you're hitting the links or visiting Augusta National. The Ritz Carlton Reynolds Plantation is truly a great Masters Golf Tournament hotel!
---

Related Hotels