Check Out: the Expedition Everest at Disney World
---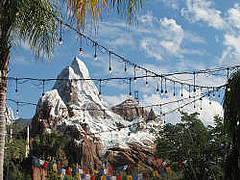 The craggy, mysterious Himalayas, or some faux fantasy from Disney? Looks like the real deal to me. Snowcapped peaks, colorful Tibetan prayer flags fluttering in the wind, a monastery, Everest base camp, and real, imported flora and fauna. Disney's just-completed Expedition-Everest: Mission Himalayas promises to be as educational as it is action-packed. After all, the Disney creatives partnered with Conservation International and Discovery Networks and sent a scientific, exploratory mission to the Himalayas:
The team searched for new plants and animals not yet discovered in the eastern Himalayan region from China to Nepal, one of the most botanically rich temperate regions in the world with an estimated 12,000 plant species, including 3,500 found nowhere else.
Opening this April, the newest attraction takes riders to an encounter with the scary and mythical Yeti, aka the Abominable Snowman, after "trekking" into a remote Himalayan village and "exploring" local artifacts. Who cares about the lines? I'm so there.
---