Caesars Palace, Las Vegas Gets Creative with Tea Sommelier
---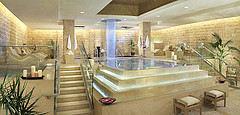 Opulent, splendid, jam-packed with luxurious amenities, of course. This is Vegas we're talking about. But
Caesars Palace
has something else to add to its impressive list of world-class facilities: a Tea Sommelier. That's right. As guests unwind at the incredible, new
Qua Baths and Spa
and enjoy specialty treatments found nowhere else in the world (
bath liqueur, Roman Rituals, anyone?),
the Tea Sommelier will serve delightful teas from an inspired menu in the Tea Lounge. Teas are created specifically for each gender, so men can sample the
Gunpowder
, a wok-fired Chinese green tea rolled into tablets resembling gunpowder, while the ladies sip
Summer Rain
, a cantaloupe and lychee flavored white tea.
P.S. For the royal treatment, try a cup of Silver Needle, a white tea so delicate it was once handpicked by virgins in white gloves and served only to Emperors.
---