Buzz: Westin Book Cadillac Detroit Opens its Doors
---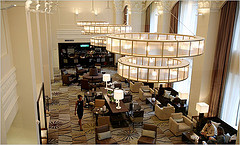 Speaking of music capitals
, Motown just (re)introduced the incredibly elegant
Book Cadillac Hotel
after a whopping $180 million renovation that "transformed the long-shuttered hotel into a showcase of luxury lodging, housing, dining and entertainment"--
to quote the New York Times
. With the reopening of the
city's once glamorous icon
, it looks like Detroit is on the ups. The
official website
provides some good background...
Now included in the National Register of Historic Places, the Italian Renaissance–style hotel, built by Detroit's famous Book brothers, was the tallest building in Detroit and the tallest hotel in the world at its completion in 1924.
...and the NYT points out how the hotel's history "reflects much of Detroit's story in the last nine decades." Now you'll find 455 guest rooms outfitted with high-tech amenities and Heavenly Bed and Bath, and extensive hotel facilities (restaurants, spa, business center, complimentary transportation around Detroit).
---