Boar's Head Inn, Charlottesville: Virginia Hospitality in the Heart of the Blue Ridge Foothills
---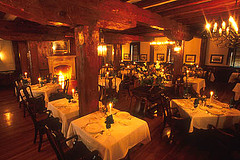 Most visitors to the
Boar's Head Inn
(myself included), find themselves drawn to the Old Mill Room, quickly enchanted with the impressive wood beams lining the ceiling, the large fireplace and cozy ambience of the fine dining restaurant. The Inn has a long and impressive history, and the Old Mill Room is the heart of it all.
The Boar's Head Inn was built from the timbers of an abandoned gristmill, formerly located along the banks of the Hardware River. Dating back to 1834, the mill had survived burning despite the orders of Generals Grant and Custer during their Civil War march. The old mill, a treasured Virginian artifact, was carefully dismantled and reconstructed on the Inn's site. The original fieldstones, pine beams and planks, and massive grist stones are displayed throughout the Inn, prominent reminders of the past.
For 19 years running, the Old Mill Room has earned the AAA Four-Diamond Award for culinary excellence. The menu spotlights heirloom vegetables, wild game, Chesapeake Bay fish and seafood, and wines from the region's finest vineyards and wineries, as well as from around the world.
From the property's early days as the site of Terrell's Ordinary in the 1730's to its development in the 1960's as a quintessential Virginia inn, Boar's Head Inn has enjoyed a reputation as a welcoming place to stop (anything but ordinary!) Indeed, the Boar's Head Tradition has endured since Shakespeare's day, when London's Boar's Head Inn was synonymous with good food and warm hospitality, a tradition maintained in the foothills of the Blue Ridge mountains.
Nestled in the gently rolling hills of a 573-acre estate just outside Charlottesville, Boar's Head Inn combines the grace and hospitality of a country inn, with the luxurious amenities of a full-service resort. There's championship golf, top-rated tennis, a luxury spa, sports club, swimming pools, and four restaurants. The meeting facilities-- newly revamped-- are unrivaled in the region. When I recently attended a conference sponsored by Whole Foods Market (regional summits encourage local growers to get their products on the stores' shelves), I was impressed by both the venue (beautiful ballroom) and the delicious lunch.
---