An Interview with the GM - T. Colm O'Callaghan of the Conrad Chicago
---
Mr. T. Colm O'Callaghan, General Manager of the Conrad Chicago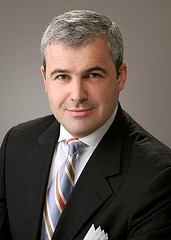 The Conrad Chicago, formerly the Le Meridien Chicago, opened in November 2005 and has been continuing to upgrade ever since. Five Star Alliance and The Informed Traveler got in touch with the General Manager, Mr. T Colm O'Callaghan to find out more about his experiences with the new hotel and to learn more about what guests can expect.
Five Star Alliance: How did you come to be General Manager of the hotel?
Mr. O'Callaghan: My family owns a hotel in Ireland which meant I was born into the business; I also attended hotel school, worked for Hilton for 18years. When this position became available I jumped at the opportunity.
Five Star Alliance: Tell us what you feel is the most distinctive or unique feature of your hotel? What best describes the personality of the hotel?
Mr. O'Callaghan: Location, location, location.
Five Star Alliance: Who are your customers and where do they come from?
Mr. O'Callaghan: Our customers are both business and leisure with our feeder markets being Los Angeles, New York, the UK, and Germany.
Five Star Alliance: What is the best thing about the hotel's location? What is your favorite thing to do in the surrounding area?
Mr. O'Callaghan: We are located in the heart of The Magnificent Mile surrounded by wonderful shopping, great museums, great dining and within walking distance to city favorites as Millennium Park, and Navy Pier. My favorite thing to do is people watch, great people watching right on Michigan Avenue.
Five Star Alliance: Can you share the names of any famous guests who have stayed in the hotel, or perhaps regulars that return on a periodic basis?
Mr. O'Callaghan: I can not speak about specific guests. I will say we do have a loyal client base. Our biggest compliment is our repeat guests.
Five Star Alliance: Which do you consider to be the best rooms in the house? Not just the suites, but also any particular standard rooms that have great views or unusual advantages? If you were checking into a standard room at the hotel, which one would you request?
Mr. O'Callaghan: All of our rooms are fabulous!
Five Star Alliance: Can you mention any interesting miscellaneous trivia regarding the hotel? Perhaps a bit of history? Any special events that have taken place on property?
Mr. O'Callaghan: Designed by Chicago architects Frederick J. Thielbar and John Reed Furgard, this 16-story art deco limestone building is a collaboration between one of the city's leading architectural firms and the sculptors Eugene mad Gwen Lux. Gwen Lux is among America's pioneer women sculptresses; her work can be found at the Rockefeller Center complex in New York City and at the General Motors Technical Center in Detroit designed by architect Eero Saarinen. The McGraw-Hill Building served as the Midwestern offices of the McGraw-Hill Publishing Company, among the largest trade paper and book publishers in the country.
Five Star Alliance: If you were considering staying at the hotel as a guest, what would you want to know about the hotel before checking in?
Mr. O'Callaghan: The location of the hotel, and the warmth and friendliness of its staff.
Five Star Alliance: What is the hardest part about being General Manager? If you could change one thing about the hotel, what would that be?
Mr. O'Callaghan: The hardest part is the administrative aspect of the job it prevents me from interacting with the guests and staff as much as I would like.
Five Star Alliance: Other than your own, can you share your choices of two or three of what you consider to be the greatest hotels in the world? And why you think they are special?
Mr. O'Callaghan:
1. Sheen Falls – Kenmare, Ireland – ideal setting
2. Evans Hideaway Resort – Huahin, Thailand – love private villas, infinity pools and enclosed walls.
3. Conrad Tokyo – New standard for the International Conrad, great urban hotel.
Five Star Alliance:Anything else you would like our readers to know about you're your property?
Mr. O'Callaghan: Warm friendly staff, second none in Chicago.
----------
Mr. T. Colm O'Callaghan is the General Manager of the Conrad Chicago in Chicago, IL where he came from his position as the Resident Manager at The Peninsula Hotel in Chicago. Prior to that, Mr. O'Callaghan had over 20 years of European and American professional experiences with hotels such as The St. Regis Hotel New York, The New York Palace, Mandarin Oriental San Francisco, and Merv Griffin's Beverly Hilton. He received his B.A., an Honors Degree, from the Shannon College of Hotel Management in Ireland and his Graduate Certificate from the General Manager Development Program in Hong Kong.
---

Related Hotels