An Interview with the General Manager: John Luckett of La Posada De Santa Fe
---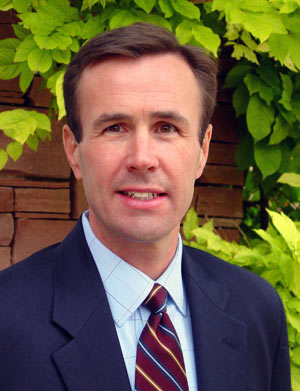 Mr. John Luckett
is the General Manager of
La Posada De Santa Fe
, a luxurious six-acre hotel and spa located in the heart of Santa Fe, New Mexico. Mr. Luckett took some time to answer a few of our questions - before retreating back to his award-winning dining at Fuego and his RockResorts Spa.
Five Star Alliance: Tell us what you feel is the most distinctive or unique feature of La Posada De Santa Fe? What best describes the personality of the hotel?
Mr. John Luckett: The rich history of The Staab House and our beautifully landscaped 6 acres make La Posada the best resort in Santa Fe. We provide guests a real "indigenous" Santa Fe experience.
Five Star Alliance: What is the best thing about the hotel's location? What is your favorite thing to do in the surrounding area?
Mr. John Luckett: We are conveniently located two blocks from Canyon Road and Historic Downtown Plaza. My favorite thing to do in Santa Fe is enjoy the outdoors with my family… hiking, cycling and skiing.
Five Star Alliance: Can you share the names of any famous guests who have stayed in the hotel, or perhaps regulars that return on a periodic basis?
Mr. John Luckett: Often times we have famous guests stay or dine at our great resort but out of respect and guest privacy we do not share this information.
Five Star Alliance: Which do you consider to be the best rooms in the house? What would you request?
Mr. John Luckett: Every guestroom at La Posada is different which makes each special in its own right. If I were to choose, I have to say Gallery Suites are my favorite. These unique suites are appointed with original works from some of Santa Fe's most prestigious galleries.
Five Star Alliance: How did you come to be General Manager of the hotel?
Mr. John Luckett: I previously worked at Keystone Lodge & Spa another RockResort property and I transferred to La Posada de Santa Fe Resort & Spa October 2006.
Five Star Alliance: Who are your customers and where do they come from?
Mr. John Luckett: Our customers are leisure travelers enjoying the arts, culture, entertainment and outdoor activities of Santa Fe. They come from New Mexico, Colorado, California, New York and Texas.
Five Star Alliance: Can you mention any interesting miscellaneous trivia regarding the hotel? Perhaps a bit of history? Any special events that have taken place on property?
Mr. John Luckett: In the 1930s, R.H. and Eulalia Nason constructed a series of Pueblo Revival-style adobe casitas around the existing Staab Mansion and carriage house. The Nason's called their new business La Posada, Spanish for "inn" or "resting place." In the following years, La Posada became a summer arts school with many long-term guests who were an important part of Santa Fe's flourishing arts community.
Over the years, La Posada de Santa Fe has served the world of literature and cinema by accommodating writers such as Eliot Arnold, author of "The Gringo and Oliver," and many other well-known personalities.
After an extensive renovation in the late 1990s that included the construction of additional lodging, RockResorts Spa, and the Conference Center, La Posada opened as a member of RockResorts. Through its transformation into the full-service resort that it is today, La Posada de Santa Fe Resort & Spa has retained its traditional Southwestern charm and intimate ambience.
Five Star Alliance: If you were considering staying at the hotel as a guest, what would you want to know about the hotel before checking in?
Mr. John Luckett: I would want to know more about Fuego Restaurant and our RockResorts Spa.
At the AAA Four Diamond Award-winning Fuego, innovative foods are infused with flavors reminiscent of classical traditions, and every dish is carefully presented with exceptionally attentive service.
RockResorts Spa offers complete renewal in the traditions of the Southwest. Featuring a state-of-the-art Fitness Center and nourishing treatments with local flavor, the spa aims to refresh both body and soul with numerous overnight and day spa packages
Five Star Alliance: Other than your own, can you share your choices of two or three of what you consider to be the greatest hotels in the world? And why you think they are special?
Mr. John Luckett: The Keystone Lodge & Spa, A RockResort because I used to be the General Manager of this property and know the staff, amenities and location are excellent.
The Arrabelle at Vail Square, A RockResort is a luxurious hotel that combines the timeless elegance of Europe's grand resorts with the romance and world-class style of Vail's alpine heritage.
Five Star Alliance: Anything else you would like our readers to know about your property?
Mr. John Luckett: La Posada de Santa Fe Resort & Spa is affiliated with Leading Hotels of the World and recognized by AAA as a AAA Four Diamond.
More Information on Mr. John Luckett:
John Luckett, an 19-year veteran of the hospitality industry, and was appointed General Manager of La Posada de Santa Fe Resort & Spa, A RockResort in 2006. In his position, Mr. Luckett oversees all operations of the 157-room historic resort.
Prior to joining La Posada, Mr. Luckett spent six years as General Manager of the Keystone Lodge, A RockResort in Colorado. Under his leadership, the lodge saw a significant increase in occupancy, revenue and guest satisfaction scores.
Prior to joining RockResorts, Mr. Luckett was Executive Assistant Manager at Adam's Mark St. Louis, Adam's Mark Houston, and held operational positions with Hyatt Regency in Dallas, Lexington, and Hilton Head Island Beach and Tennis Resort. He also served on the Colorado Hotel and Lodging Association Board of Directors. Mr. Luckett graduated from Western Kentucky University with a Bachelor of Science degree in Hospitality Management.
---