An Interview with the General Manager: Cliff Atkinson of Gramercy Park Hotel
---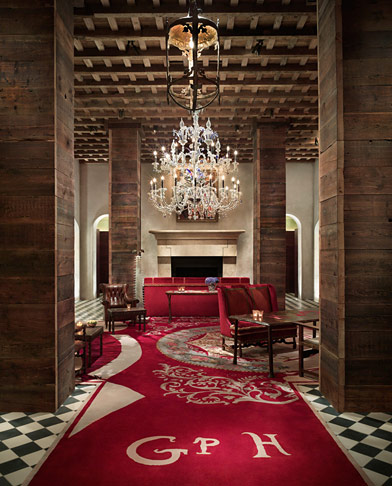 Cliff Atkinson was promoted to General Manager of the
Gramercy Park Hotel
in July 2007 after joining as the Hotel Manager in October of 2006 with more than 15 years of experience in the hospitality industry.
Five Star Alliance: How did you come to be General Manager of the hotel?
Cliff Atkinson: I was recruited by Ian Schrager to be the Gramercy Park Hotel Manager in September 2006 and I assumed the General Manager position in July 2007. I was very excited to incorporate my traditional luxury hotel background with the modern luxury that Gramercy Park Hotel introduced to the market.
Five Star Alliance: What is the best thing about the hotel's location? What is your favorite thing to do in the surrounding area?
Cliff Atkinson: The best thing about our hotel's location is the access to Gramercy Park. My favorite thing to do on a Sunday is to grab a New York Times, with a morning coffee and sit in the park and read my paper all year round. It is so quiet and peaceful, right in the middle of New York City!
Five Star Alliance: Which do you consider to be the best rooms in the house? Not just the suites, but also any particular standard rooms that have great views or unusual advantages? If you were checking into a standard room at the hotel, which one would you request?
Cliff Atkinson: My favorite rooms are our Loft rooms. They really feel like an artist's loft from the 1920's… very Bohemian. I recommend our "05" rooms, which have fantastic bathrooms and a large open feel.
Five Star Alliance: If you were considering staying at the hotel as a guest, what would you want to know about the hotel before checking in?
Cliff Atkinson: The Private Roof Club access and the weekend Dim Sum brunch in Wakiya.
Five Star Alliance: Tell us what you feel is the most distinctive or unique feature of your hotel? What best describes the personality of the hotel?
Cliff Atkinson: I think there are five distinctive points about our hotel:
1. The unique design of the rooms. – They are different than anything in the market today, with a design created by Ian Schrager, the patriarch of the modern hotel industry and Julian Schnabel, a world renowned artist. The rooms set themselves apart from the usual homogeneous look of the majority of hotel rooms.
2. Our location – The Gramercy Park area is becoming the "new midtown". It is close to both the traditional Midtown Manhattan shopping and the exciting dining and night life of downtown Manhattan. Plus, our location directly on Gramercy Park provides our hotel guests with an experience like no other by allowing exclusive access to New York's only private park.
3. Our Food and Beverage – Our options for dining and entertaining are truly world class from our Chinese restaurant, Wakiya, to the exciting nightlife of our Rose Bar, to the comfortable, laid back garden atmosphere of our Private Roof Club. Guests don't feel like they are in a hotel but rather a private mansion with an incredible selection of personal chefs!
4. Private Roof Club – There is simply nothing like our Private Roof Club anywhere in New York City. It is accessible to hotel guests only, it provides a private retreat with incredible artwork and is covered and temperature controlled 365 days a year. It is truly special.
5. Our Service – Our approach to service is the same approach I used at former Mobil Five Star and AAA Five Diamond Hotels and Resorts. Ian Schrager has the eye for the design and can create a hotel space like no other. It is my job to ensure the service is at the level you would experience at the World's top luxury hotels packaged in this unique hotel casing.
Five Star Alliance: Who are your customers and where do they come from?
Cliff Atkinson: Our hotel guests are the global luxury traveler, with over 40% international. The demographic spans all ages from young 20's to mid 60's – anyone who wants a luxury experience that is special, unique and personal.
More About Mr. Atkinson:
Prior to joining the Gramercy Park Hotel, Cliff worked for the Mandarin Oriental Hotel Group for seven years and held various positions within the company, most recently as the Executive Assistant Manager for Mandarin Oriental, New York. Before Mandarin Oriental, New York, Cliff was the director of Revenue Management for the Group's properties in North America and Europe from 2000 – 2003. Cliff began his career in the hospitality industry with Hilton Hotels in Revenue Management and as Director of Front Office Operations and other various management positions in Rooms Division.
Cliff attended City College of San Francisco with a degree in Hospitality Management as well as the University of San Francisco and graduated with a Bachelor of Science degree in Business Administration. Cliff resides in Manhattan with his wife Jennifer and is currently pursuing his MBA.
---