Impending Opening: Trump Tower Towers over Toronto on the 31st
---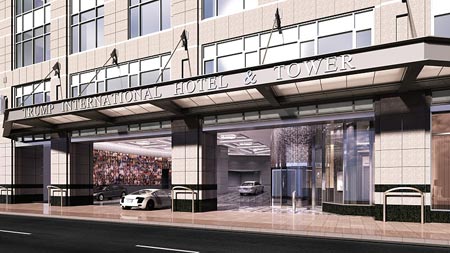 The grand opening of a new Trump Tower is certainly something to be excited about, and hopefully with the business mogul taking a tumble out of the presidential race, he'll have time to focus on unveiling the newest five-star hotel in his ever-growing collection.  Set to open on the 31st of January, now is the time to book the earliest rooms in this now-dominant feature of the Toronto skyline.  Each of the 261 rooms and suites features an elegant, cosmopolitan style and many look out over Lake Ontario.  
Ever looking to accommodate the businessmen among us, Trump's tower offers two full floors of meeting space and conference rooms to host your next big event.  Two additional floors house the nearby spa and wellness facility that dwarfs most others in the city.  If you're at all daunted by its comprehensive spa experience, never fear because the Spa Attache will be there to highlight the most revitalizing treatments.  Once you're done relaxing, head on down to the elegant signature restaurant led by an award-winning chef or the sleek, modern bar with signature cocktails that please both the traditionalist and the more adventurous imbiber.  You can even acquire kiddie cocktails and coloring books for the more youthful members of your party.
Reservations are available now, so make sure to check out Toronto's newest property, the Trump International Hotel and Tower Toronto the next time you're passing through.
---