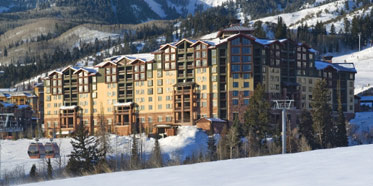 Spending all day skiing and snowboarding down the legendary slopes of Park City Utah can work up quite an appetite. Luckily, if you stay at The Canyons, the options for dining are extensive. The collection of distinctive mountain cuisine is brought to you by the exclusive Talisker Restaurant Collection, and is under the direction of Executive Chef John Murcko, recently named "Best Chef in Utah" by Salt Lake Magazine.
Grand Summit hotel offers The Farm, Red Tail Grill and First Tracks Cafe. The Farm's innovative menu focuses on ingredients sourced within 200 miles of Park City. Sit outside and enjoy a glass from their amazing selection of wines. Red Tail Grill offers mountain views and southwest cuisine. The rustic setting makes it a fantastic gathering point for families. If you are looking to fuel your morning run (or fuel up for your afternoon run), First Tracks Cafe is right in the lobby of the Grand Summit and offers speciality coffees and assorted pastries.
You can even dine at the top of Dream Peak. Cloud Dine, located at the top of DreamCatcher and DreamScape lifts, offers healthy salads, soups, gourmet pizzas and sandwiches with a culinary twist. Or nosh at the top of Short Cut Lift at Lookout Cabin, which is known for its Rocky Mountain Cuisine.
Waldorf Astoria Park City plays host Talisker on Main, named "Best Restaurant in Park City" by Salt Lake Magazine. This restaurant focuses on sampling many distinctive regional flavors with a constantly evolving menu inspire by the fresh produce available during the changing seasons. The Canyons, which also is made up of Silverado Lodge, also offers the additional culinary options of Red Pine Lodge, Sun Lodge, Tombstone & Dreamscape Grills, Umbrella Bar, Bruges Waffles, Alpine House, oh, and Saturday Night Western BBQ's at the Red Pine Lodge. Finally, the newly-opened Bistro at Canyons first glatt kosher restaurant open all winter season long at any ski resort in the nation.
So strap on your skies, and get ready to give both your body and your appetite a workout.
---

Related Hotels