5 Salt Lake City Luxury Hotels Near Golf Courses
---
Top Luxury Hotels Near Golf Courses in Salt Lake City
By: Jonathan Stuart, guest blogger
Nestled between the Great Salt Lake and the majestic Wasatch Mountain Range, Salt Lake City has some of the most scenic places to visit in the country. In addition to Fifth Water Hot Springs and City Creek Canyon, guests will find many must-play golf courses. Flying in for a weekend of golf is a common practice. It all started with the emergence of luxury hotels situated minutes from the greens.
Here are 5 Top Salt Lake City Luxury Hotels Near Golf Courses: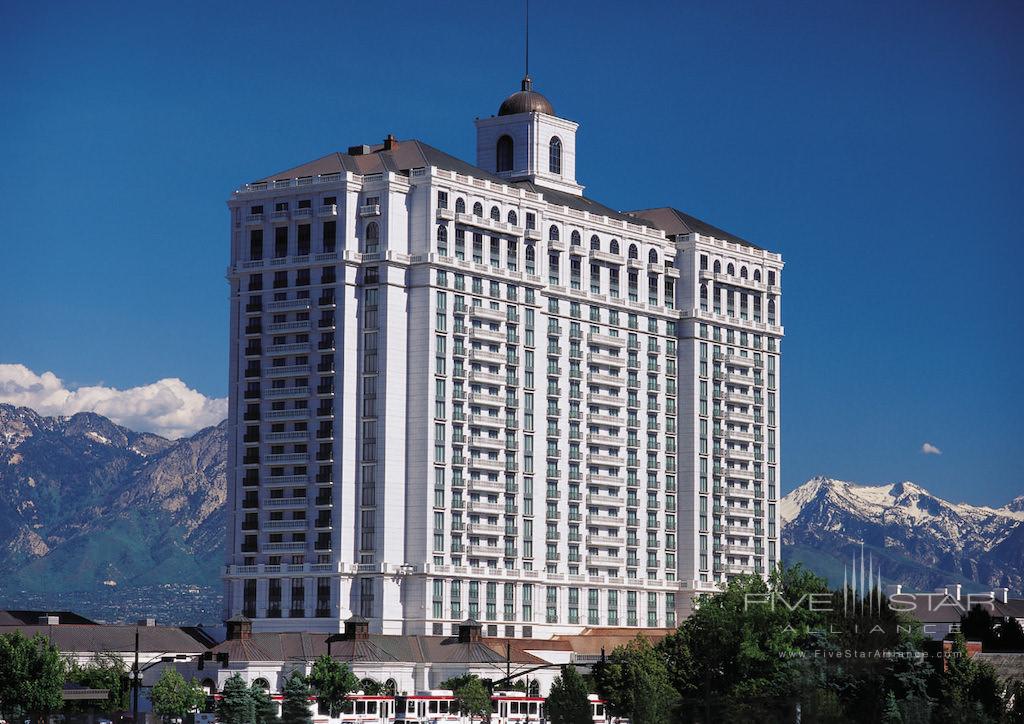 Located in the heart of Salt Lake City, The Grand America Hotel is the only AAA Five Diamond hotel in the city. Here, guests will step back in time via the gleaming chandeliers, marble work, and solid wood furniture that accent the lobby and main floor.
Guests feel transported to a different country when dining on the terrace of Garden Café. There's nothing quite like dining outside and watching the sunset after a day on the course. Afternoon Tea is available from 2pm-5pm every afternoon in the lobby. The Gibson Lounge is the perfect spot to grab a cold one and watch the big game as well.
The Grand America Hotel sits in the middle of downtown, four miles from Bonneville, one of the premier golf courses in Salt Lake City. Wingpointe, one of the city's municipal courses in 5 miles away. Guests are only eight minutes away from the Glendale Golf Course. After a day of golf, come back to the hotel for a dip in either the indoor, or outdoor pool or you can enjoy a massage at the full-service spa.
Check availability at The Grand America Hotel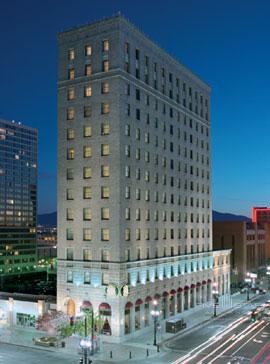 Dramatic and modern accommodations welcome guests at the Hotel Monaco Salt Lake City. This trendy hotel offers a unique style with vivid colors, geometric carpet patterns, and sultry furniture. There are 225 distinctive guest rooms available, all featuring modern colors, shapes, and textures. Best of all, it's only four miles away from the course at Bonneville and 5 miles from Wingpointe and Glendale. Gather with friends after a day on the course in the unique communal spaces or enjoy fine dining in the Bambara restaurant. The Hotel Monaco, located in downtown Salt Lake City, makes it a prime spot to take in the other activities that the city has to offer.
Check availability at Hotel Monaco Salt Lake City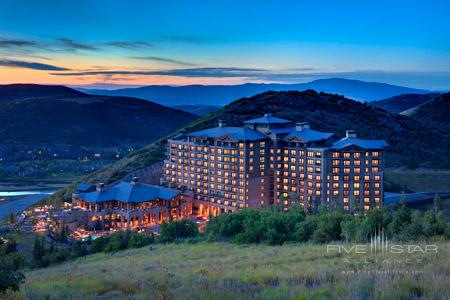 Tucked away in a private and gated community, the St. Regis Deer Valley sits on the edge of the Wasatch Mountains. 181 custom-designed guest rooms await those travelers looking for the beauty and class that only a 5-star hotel will bring. Skiing is popular during the winter months with easy access to golf courses all over Park City during the summer. Some golf courses, like the Park City Golf Course located a quick 10 minutes away, offer cross country skiing during the winter, and the Canyons Golf Course is a quick 20-minute drive as well. Guests will enjoy the heated infinity swimming pool that features a split-level as well as over 13,000 square feet of spa service areas. St. Regis Deer Valley is the perfect place to unwind after a long day out on the course.
Check availability at St. Regis Deer Valley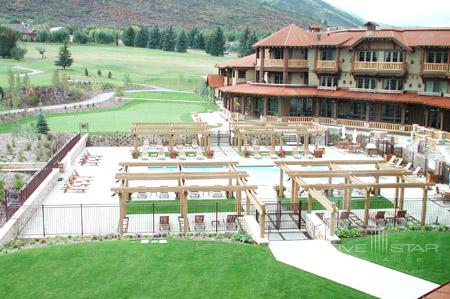 Many of Utah's most scenic Golf courses are only a few minutes outside of the city. Canyons Golf Course on Sundial Court offers some of the best views and a challenging course full of hills. It's just three miles away from Hotel Park City. This hotel gets kudos from Tripadvisor for its consistent luxury with 100 guest suites. All suites feature jacuzzi bathtubs and private balconies with excellent view of the mountains and golf course. Guests also enjoy the King-size beds in each of the suites as well as the cozy fireplace. Many travelers looking for a romantic getaway choose Hotel Park City for its charm and romantic atmosphere.
Check availability at Hotel Park City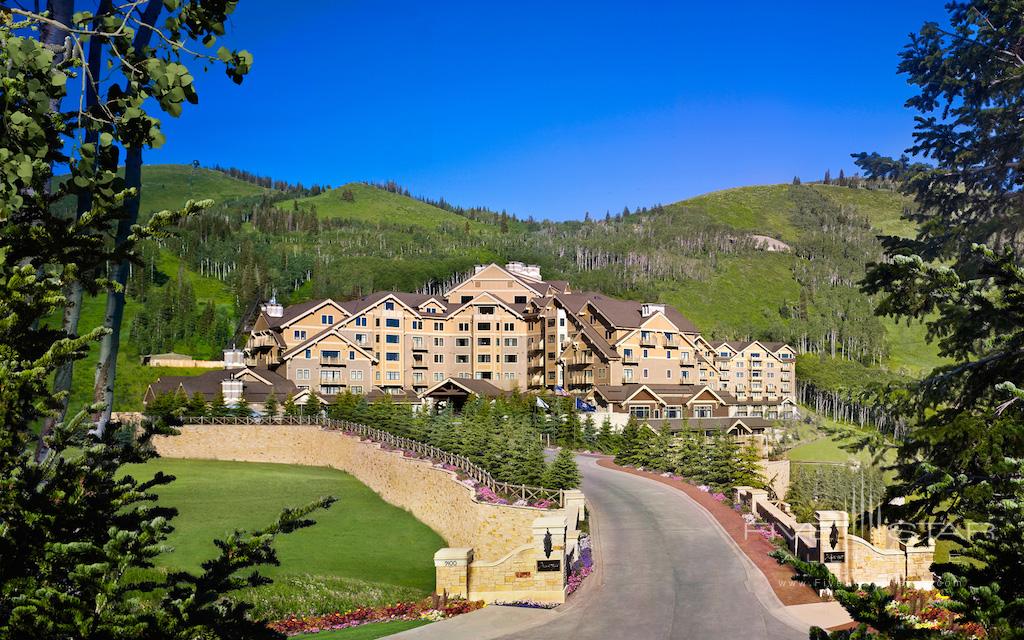 Guests looking for a high-quality mountain lodge resort should look no further than the Montage Deer Valley. This classic 5-star hotel, perched at the top of the Empire Canyons, gives guests gorgeous and unparalleled views. A luxurious stay starts with the stunning Great Room that features vaulted ceilings and iron chandeliers. Artwork featured throughout the mountain lodge spark conversation in the small and large gathering areas for guests to chat with friends. Guests return to the Montage Deer Valley for its uncrowded and civilized demeanor despite its overall lodge aesthetics. Elegance flanks all aspects of the lodge that expertly weaves together upscale service mingled with a cozy mountain resort. Play a round of golf at nearby courses like the Park City Golf Course that is a 12-minute drive or the Painted Valley Golf Course that is about a  drive from the hotel.
Check availability at Montage Deer Valley
People visit here for the golf and skiing, but many end up staying because of views. Consider booking a room at any one of these top luxury hotels near golf courses in Salt Lake City on your next visit.
Explore more Salt Lake City Luxury Hotels
Jonathan Stuart is an outdoor enthusiast with a passion for hiking, hunting, rock climbing and golf. You'll often find him camping near one of Colorado's many 14ers getting ready for his next big adventure.
---

Related Hotels