Fendi Suites: A Shopper's Dream Come True
---
When visiting Rome, you can spend the night above Fendi's flagship boutique, in the
Fendi Private Suites
. Featuring seven elegant suites, all accommodations meld chic and creative design with Italian elegance and innovation, plus Fendi-infused touches. Set within the former palace of the Boncompagni Ludovisi Princely family, guests can dine at Zuma, situated on the rooftop, then shop at the store below (or vice versa). Read more about the Fendi Suites from our sister publication,
Luxury Travel Advisor
, written by Sharri Whiting De Masi.
What can we say about the Fendi Private Suites, other than to emphasize that couture is couture and style is style. Living over a store has never been so sumptuous. Enter through the silvery elevator doors and come out to find Fendi's innovative design translated into sleek leather sofas, floor-to-ceiling windows and signature room dividers made from woven metallic wire sandwiched between glass. Palazzo Fendi, at Via della Fontanella di Borghese 48, is right at the end of Via Condotti, Rome's famous shopping street. Continue reading below.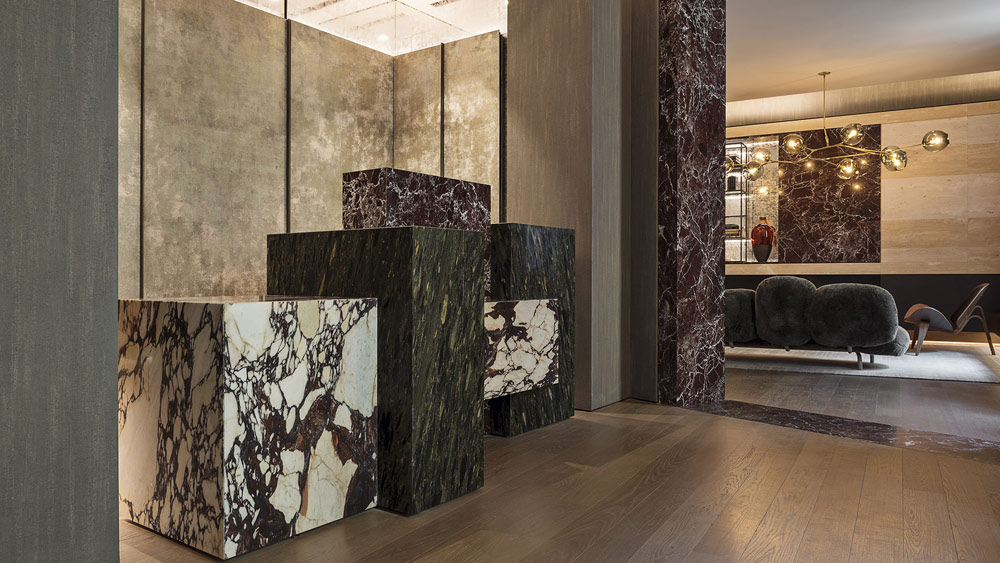 The largest of the seven suites, all of which are located on the third floor, is the Corner Suite No. 7. Six windows flood the 650-square-foot suite with light. Wine-velvet chairs and a colorful Fendi fur-wall mosaic provide contrast to the neutral velvets and taupe leather used throughout the suite. Levanto marble lines the walls of the bathrooms in the suites, with distinctive chocolate and cream swirls. There is a deep tub and a double shower.
Note:
There are bathtubs in five of the seven suites, along with separate showers.
Suites 4 and 5 have adjacent doors and, though separate, can be taken together for a group stay. Suite 4 is about 550 square feet, with two tall windows overlooking Via Tomacelli. The wide-screen TV swivels to face the bedroom or the living room and there is a walk-in wardrobe.
We also visited Palazzo Suite 2, which is 550 square feet and overlooks a small piazza. There are two large windows to bring in the Roman light. This suite can connect with Palazzo Suite 1, which looks out toward the skyline above the Spanish Steps.
We loved Fendi's use of iPads in the suites to display clever apps for navigating Rome and providing hotel info to guests, who are also offered private tours of Fendi's amazing new flagship store. Karl Lagerfeld photos of Rome decorate the walls in every suite, providing inspiration for the visit downstairs to see his couture collection for the design house.
The hip Zuma Ristorante shares the Palazzo Fendi, offering hotel guests breakfast, as well as contemporary Japanese cuisine at lunch and dinner. The rooftop terrace at Zuma is a favorite spot for sunset cocktails.
Check rates at the Fendi Suites >>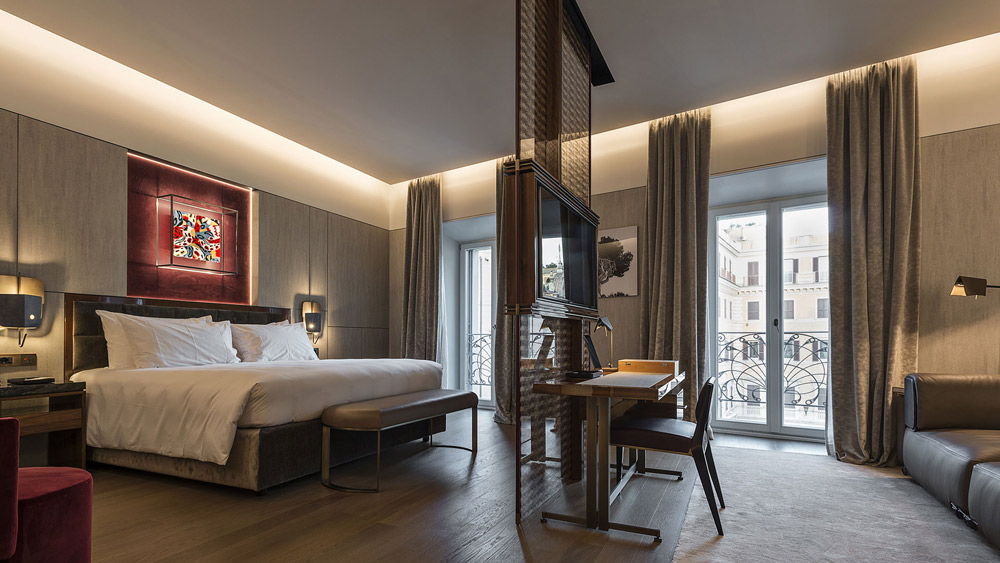 Save
Save
Save
Save
---