Ava Gardner Suite at the Belmond Hotel Splendido
---
Encompassing the top floor of the
Belmond Splendido Mare
, the Ava Gardner Suite, is located on the Piazzetta of Portofino. Providing one-of-a-kind views of the Castle Brown, promontory, and the harbor, the ultraluxe suite offers an elegant retreat with a master bedroom, spacious bathroom, living room, and grand terrace. 
Combining local style with modern touches, the suite features a color palette of cream and white with wood flooring and elegant lighting. The sea is visibile from the bedroom and sitting rooms, both of which offer plenty of natural lighting. Continue reading below.
The wall-to-wall windows in the living room looking onto the terrace, make the space feel as if it is all one large living area, with indoor and outdoor seating. The 603-square-foot terrace is one of the largest in the area, and is adorned with a large, potted lemon tree, Mediterranean plants, and incomparable sea views. Read more below the photo.
The Belmond Hotel Splendido and Splendido Mare offers a luxurious escape in the Italian Riviera. The Belmond Splendido Mare is located in the heart of Portofino on the iconic Piazzetta, and the Belmond Hotel Splendido is a luxurious retreat suspened on a cliff above the sea. Both offer Italian charm with superior amenities and luxury services. 
Check rates and availability at the Belmond Hotel Splendido and Splendido Mare >>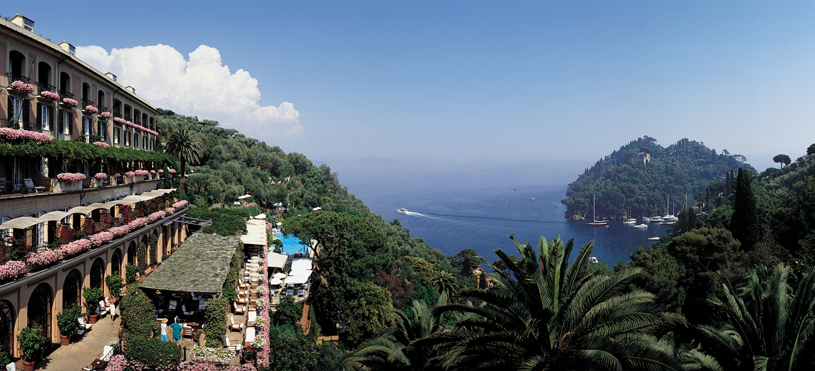 ---
Related Hotels
Welcome to a world of elegance and refinement where hospitality, privacy and service are second to none. A unique dimension, that of Portofino. The ineffable charm of a Riviera with a sparkling yet reserved personality. Standing... more >>

Style, Liguria architecture and elegance are the key features of the Eight Hotel in Portofino, a wonderful example of the perfect combination of ancient tradition, modern technology and quality of service offered to our guests.... more >>