Hotel Pacific Brings the Monterey Bay Aquarium to You
---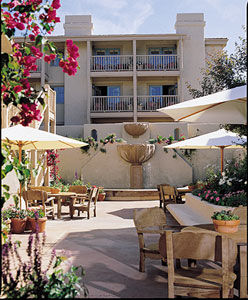 Fish fans will appreciate the latest offer from Hotel Pacific. Hotel Pacific is a boutique hotel in downtown Monterey, CA, and is a few minutes from the Monterey Bay Aquarium. Hotel Pacific offers luxury all-suite accommodations with fireplaces, wifi-internet, continental breakfast and afternoon refreshments, luxurious feather bedding, and unique vacation packages.
The nearby Monterey Bay Aquarium offers visitors a unique glimpse into the deepest realms of California's Pacific Ocean and a close-up look at many different ocean species, from great white sharks to albacore tuna, sunfish, sea turtles, and otters.
Hotel Pacific's Monterey Bay Aquarium Package Includes
- Overnight accommodations for two
- Two 2-day adult admission tickets to the Monterey Bay Aquarium
- VIP express entrance to the Aquarium, no waiting in line
Rates for the Monterey Bay Aquarium Package start at $375 per night >>
All rates are based on double occupancy and extra person charges may apply. Please be advised that the rates, availability, as well as any extra person charges are subject to change depending on the hotel's policies.
---