Spring Events at The Resort at Paws Up
---
Combining incomparable luxury surrounded by the unspoiled wilderness, The Resort at Paws Up offers a unique setting in the Montana countryside. Ideal for adventure seekers, the property has 100 miles of trails, fly fishing, and a world-class sporting clays course. There's chef-prepared cuisine, and accommodations feature rustic elegance in the historic Morris Farm House, Blackfoot River Lodge, Tent City, and Meadow Homes. Read more below the photo to discover some upcoming special events.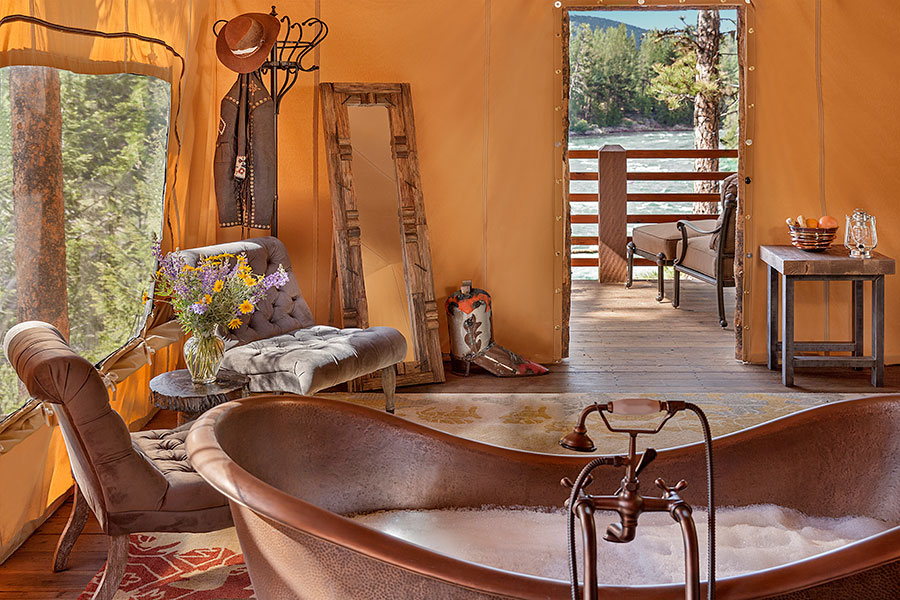 The Cowgirl Spring Roundup | April 27-30, 2017 
Providing a quintessential Montana cowgirl weekend experienence, visitors can watch cattle drives led by Cowgirl Hall of Fame honorees, attend educational workships, go on trail rides, and participate in photo sessions. Plus, guests will have the opportunity to attend inspirational speeches, gourmet dinners, and wine tasting. 
AdrenZen Wellness Weekend | May 5-8, 2017
Feeling a little drained? This first-ever AdrenZen event is designed for those who love to unwind as much as they crave activity. The weekend includes adrenaline-inducing activities such as rapelling and hiking, spa treatments, fitness classes, mediation, and yoga. Celebrity Chef Kelly Liken will create gourmet cuisine and health-conscious cocktails, while Yogi Lauren Taus and The Biggest Loser's Jen Widerstrom are scheduled to lead fitness activities. 
Check rates and availability at The Resort at Paws Up
---
Related Hotels

At the crossroads of incomparable luxury and unspoiled wilderness lies The Resort at Paws Up. Distinguishing itself from the rest of the Montana resorts and standing apart from all other Rocky Mountain resorts, the Resort at Paws... more >>

Experience the legendary hospitality and enchanting beauty of one of the world's best hotels set in the heart of the breathtaking Bitterroot Mountain Range of the Montana Rockies. A proud member of the prestigious Relais &... more >>