Newly Redesigned Four Seasons Miami
---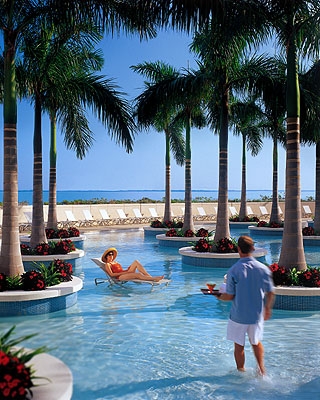 The Four Seasons Miami underwent a bit of a makeover this past fall, and its updated room designs, new restaurant, and pool terrace have proven to be quite a hit with the Miami visitors. The new rooms feature one of two new color schemes; red and slate, and gray and blue, and aside from vibrant colors, the hotel boasts new furnishings and fabrics, giving this hotel a phenomenal upgrade.
The new restaurant, Edge Steak & Bar replaces a more traditional steakhouse and embraces the concept of lighter, healthier fare. Menu options include 'steak lite,' a variety of seafood, sandwiches, and salads. This restaurant also offers a unique dessert concept, 'Dessert Tapas,' which are smaller portions for $4 that satisfy your craving and keep you from regret. Edge Steak & Bar will also be serving an incredible Sunday brunch from 11:30am – 3:00pm, and it will feature various serving stations as well as hand-spun cotton candy!
Still need a little convincing? Consider this: The Four Seasons Miami has 3 beautiful outdoor pools with plush daybeds and a poolside butler, so start packing your bags and get ready for the ultimate relaxation in Miami!
---