Destination Spotlight: Lisbon
---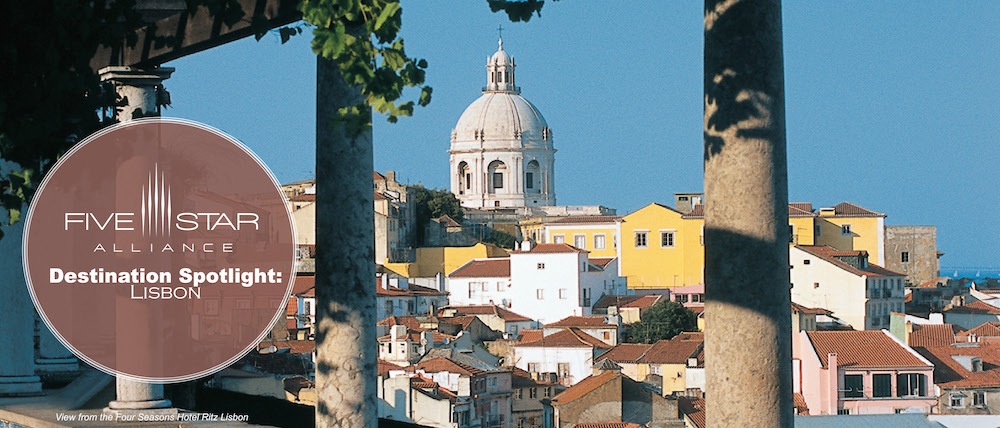 Known for sidewalk cafes, fado serenades, custard tarts, and a mild climate, Lisbon is the second-oldest European capital (Athens is the oldest). Set amidst seven mountains, Lisbon combines a nostalgic past with a progressive style, for a laid-back setting in the midst of a major city. As the only European capital with sunsets over the sea, the charming city is set on one of the world's greatest natural harbors. As a safe haven during WWII, the peaceful city is full of World Heritage monuments, museum treasures, and ancient painted tiles. There are medieval village-like neighborhoods, and vintage trams transport visitors and locals alike through the romantic streets. 
Crowned by St. George's Castle, some of Lisbon's must-sees include the Moorish Alfama quarter, the Romanasque Sé Cathedral, Madre De Deus Convent, São Roque Church, and the Estrela Basilica. Belem Tower is a UNESCO World Heritage Site, the Calouste Gulbenkian Museum showcases treasures from the East and West, while Jerónimos Monastery located along the river has ornate Manueline cloisters, plus there's palaces and beaches to explore. For shopping Avenida da Liberdade features designer boutiques, while Pombaline Baixa and Chiado have specialty stores offering local items. At sunset, join the locals on a cobblestone patio and drink sunset shots of ginjinha, a popular cherry flavor liqueur. 
Offering a comfortable climate year-round with golf courses and beaches nearby, the city hosts lively events throughout the year including the Festival Música Viva (May 20-27, 2017) and the Muro Urban Art Festival (May 25-28, 2017). In August, the Festas do Mar celebrates the sea in honor of Our Lady of the Navigators with daily concerts, fireworks, arts, crafts, and a traditional procession. The Lisbon & Estoril Film Festival happens in November, and there are traditional Christmas concerts held throughout the city in December. 
To compliment Lisbon's activities and cultural options, Five Star Alliance offers a selection of luxury hotels that will appeal to a range of travelers including Historic Palaces, Urban Retreats, and Luxe Resorts.
Explore all Lisbon Luxury Hotels
Historic Palaces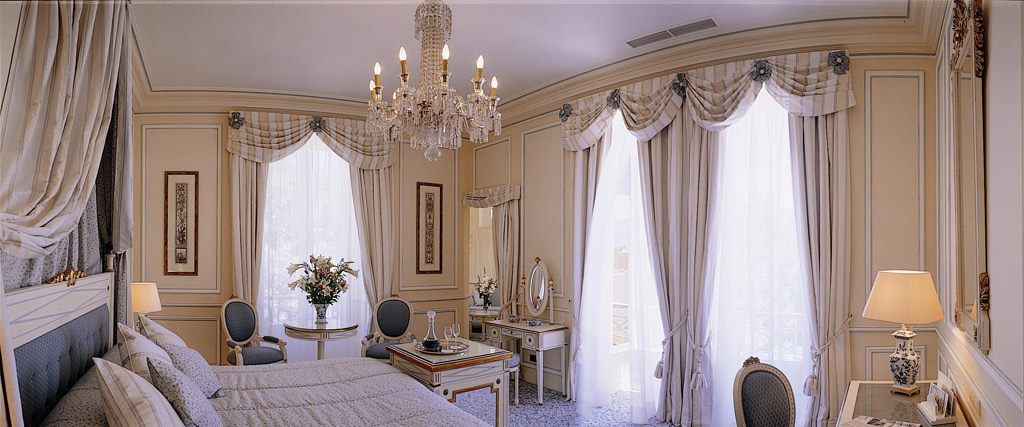 Perched on a hilltop in one of Lisbon's most exclusive neighborhoods, Olissippo Lapa Palace is a resort set within a 19th century villa that is the former home of the count of Valenças. Close to famous sites and upscale shopping, the hotel's furnishings recreate the styles of King D. João V and Queen D. Maria I, combining art deco, colonial, neoclassic, and Algarvian influences. From the luxurious Tower Suite, guests can enjoy views of Lisbon from one of two balconies.
Check rates at the Olissippo Lapa Palace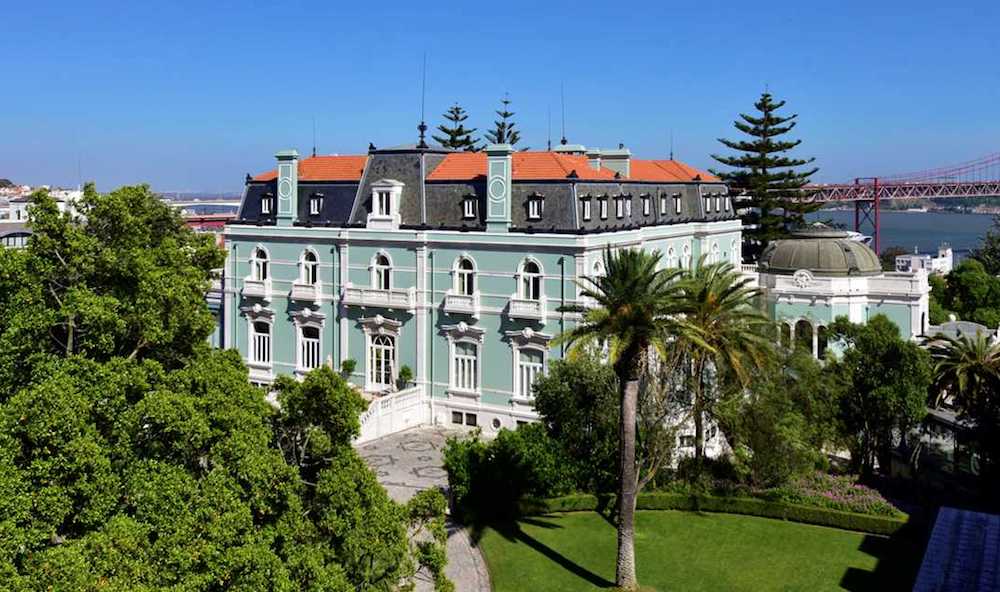 Offering 800 years of cultural influences, Pestana Palace Hotel & National Monument is surrounded by tropical gardens with an original lake and pavillion. The Valle Flôr Palace was built in the late-19th century and features frescoes, marble, and handpainted tiles. There are valuable works of art within the palace, and the highly-regarded Restaurant Valle Flôr serves traditional Portuguese cuisine overlooking the park. 
Learn more about Pestana Palace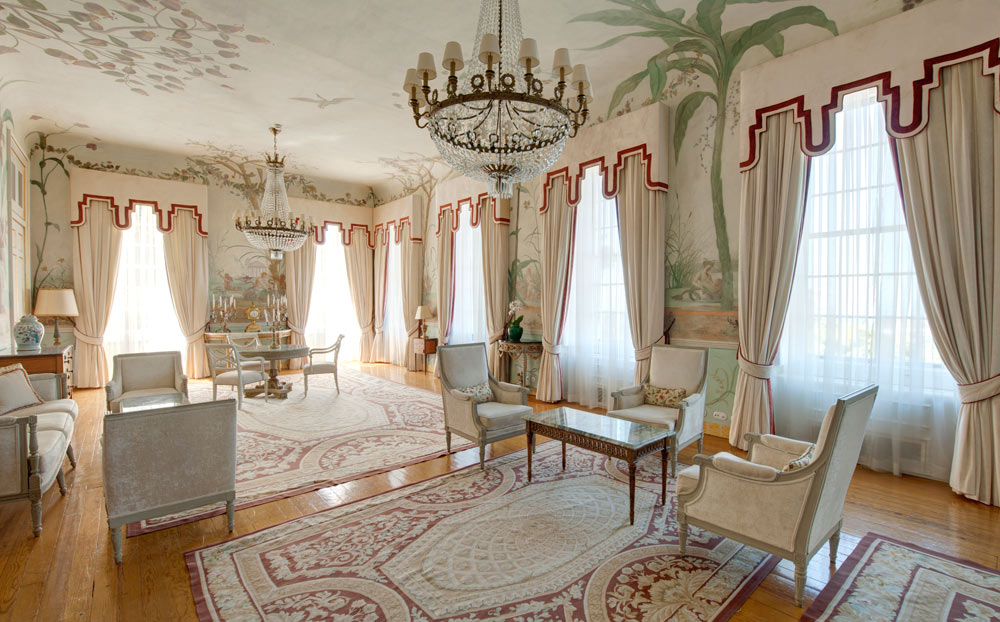 Perched on a mountainside overlooking the UNESCO World Heritage town of Sintra, Tivoli Palacio de Setais was originally built by the Dutch. Today, the luxury hotel has 29 rooms set within two palace wings with elegant decor, frescoes, and Dona Maria style furniture. A short drive from Lisbon, there's an outdoor pool with a sundeck, Setais Restaurant with chef-prepared Portuguese cuisine, and two tennis courts. 
Check rates at Tivoli Palacio de Setais
Urban Retreats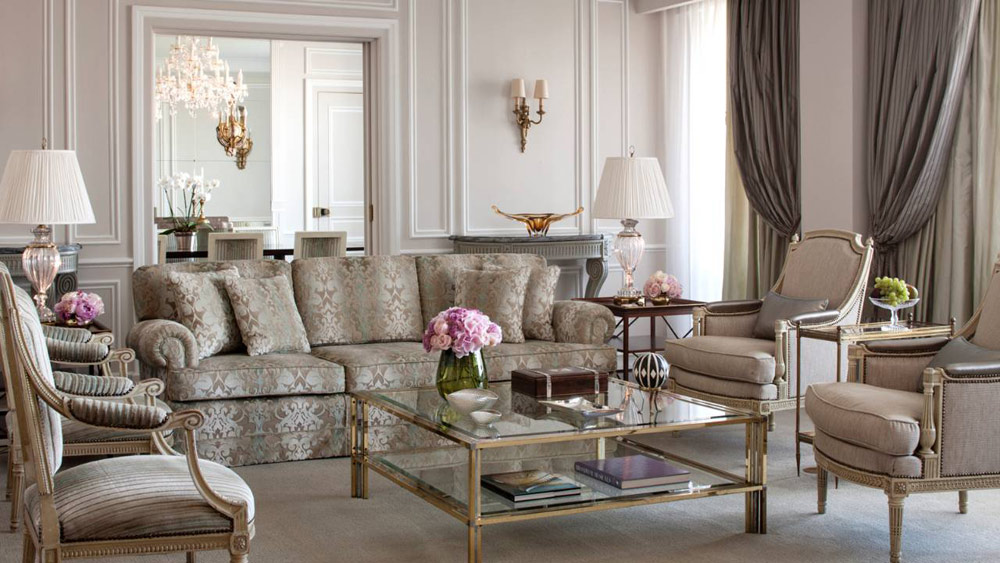 A landmark hotel in the heart of the city, the Four Seasons Hotel Ritz Lisbon is within bird's-eye view of Libson's historic sites. There are two upscale restaurants, Varanda Restaurant with chef-prepared cuisine by Michelin-starred French Chef Pascal Meynard, and O Japonês with a range of Japanese specialties. The hotel has a luxury spa, fitness center, and historic artwork throughout the property.
Learn more about Four Seasons Hotel Ritz Lisbon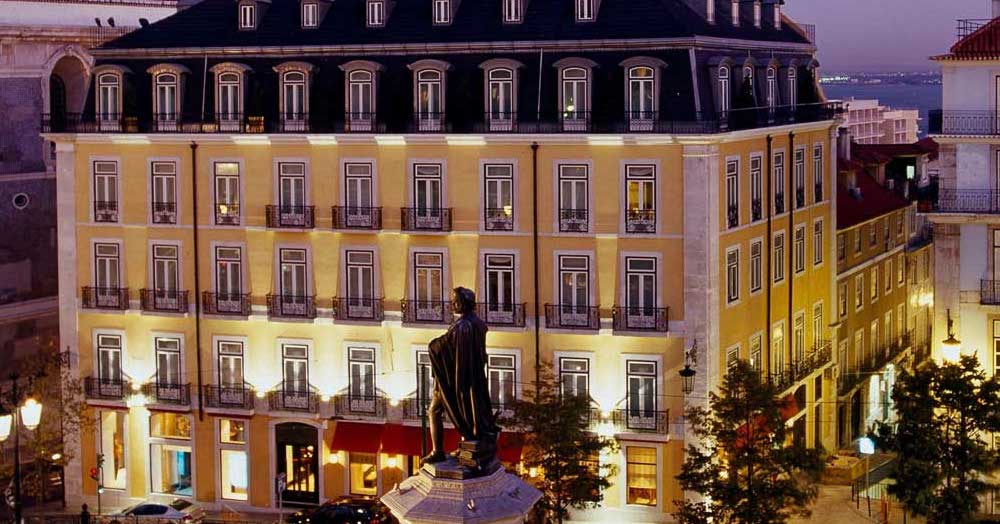 Nestled within the city's creative hub, Bairro Alto Hotel Lisbon is a boutique hotel celebrating art and design, between the bohemian Bairro Alto and the cosmopolitan Chiado neighborhoods. The sixth floor terrace provides an idyllic setting to relax while enjoying panoramic views of the city, while on the ground floor, Florés restaurant serves dishes blending Portuguese and Mediterranean flavors. 
Check rates at Bairro Alto Hotel Lisbon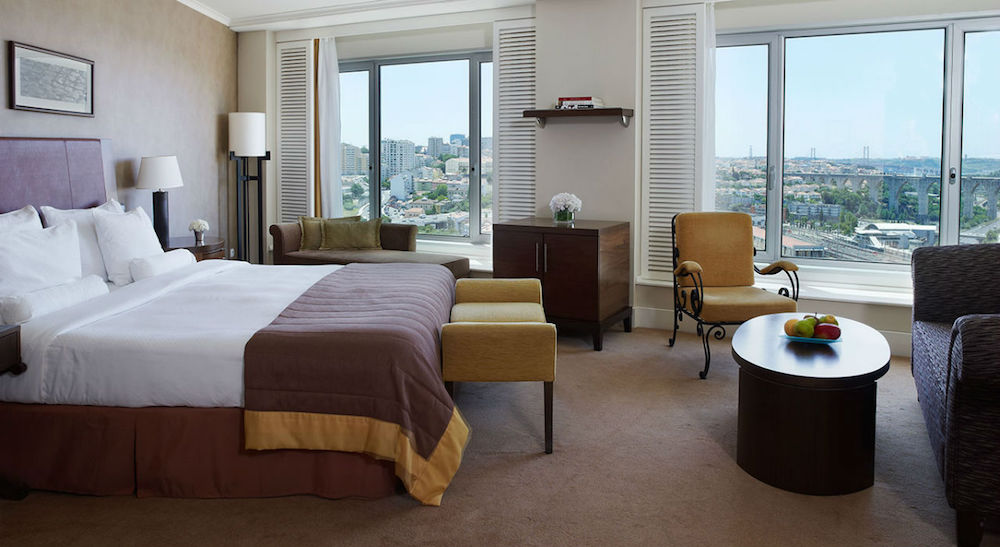 Overlooking Monsanto Nature Park and the 18th century aqueducts, the Corinthia Hotel Lisbon is within walking distance of the Lisbon Zoo, Gulbenkian Museum, main shopping areas, and historic sites. There's a Spa and Wellness Club with 13 treatment rooms for spa services, the Acqa with heat and sensory experiences, a state-of-the-art fitness center, and heated indoor swimming pool.
Learn more about Corinthia Hotel Lisbon
Luxe Resorts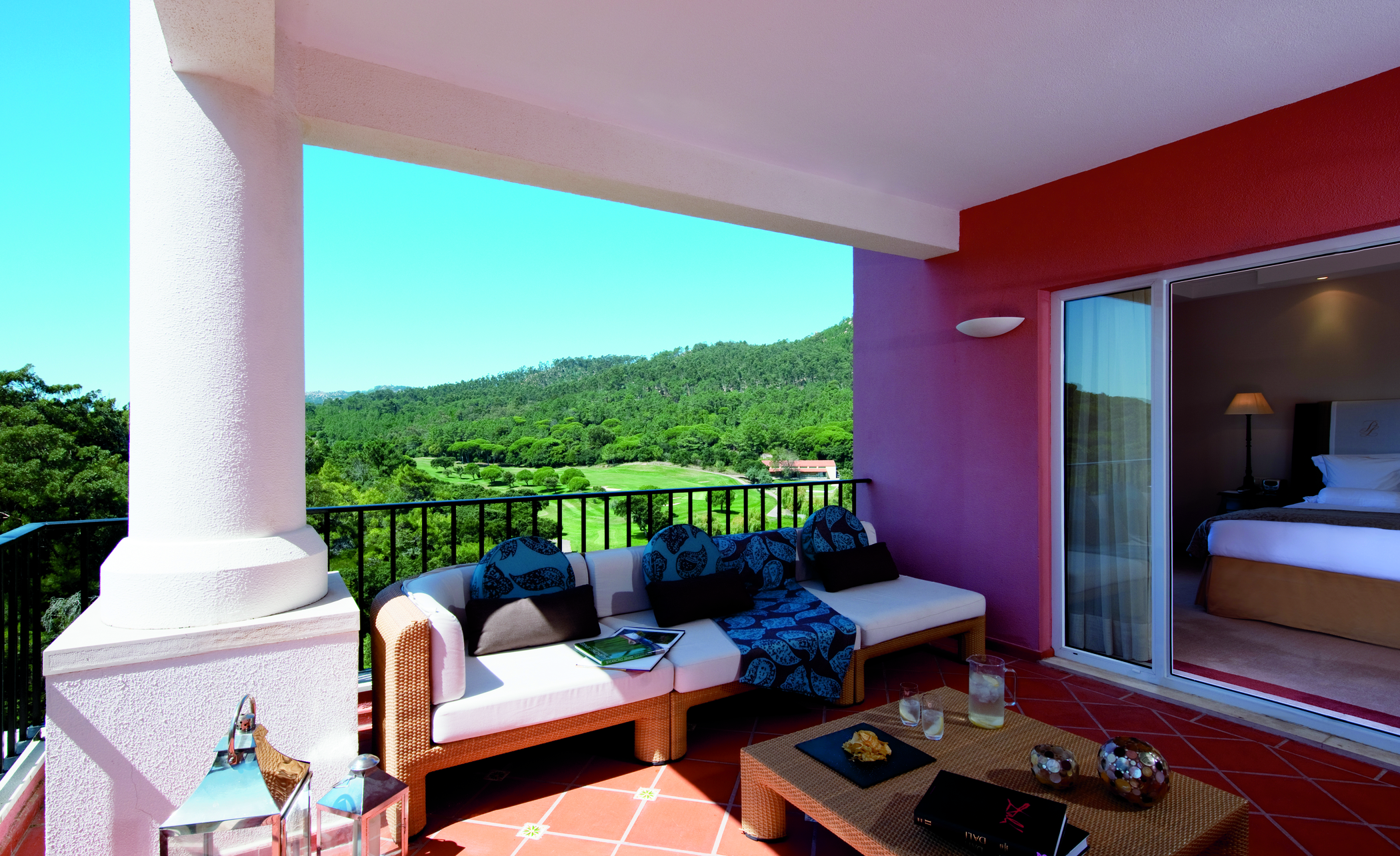 Set in the hills of Sintra, a short drive from downtown Lisbon, the Penha Longa Hotel and Golf Resort offers an upscale setting with historic buildings, golf, and the Penha Longa Spa and Wellness center with body treatments, fitness center, and wellness activities. The property's seven restaurants provide an array of dining options, including the recent Michelin Star recipient, LAB by Sergi Arola. For families the resort has programs for babies, toddlers, school children, and teens. 
Check rates at Penha Longa Hotel and Golf Resort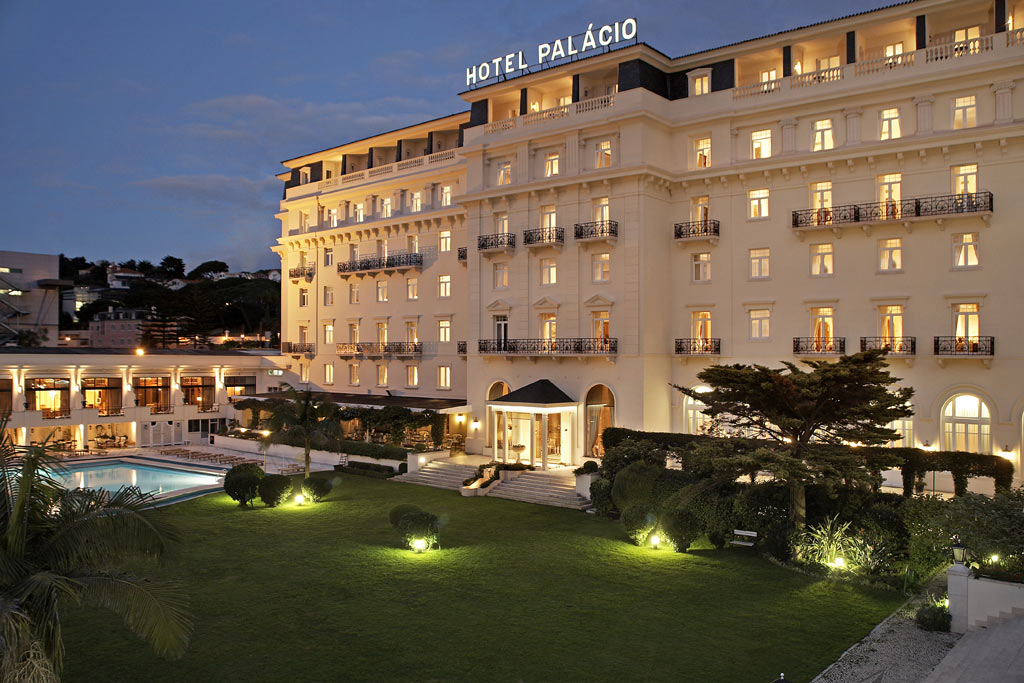 Since opening in 1930, the Palacio Estoril Hotel and Golf is a grand hotel overlooking the Bay of Cascais in the seaside town of Estoril. About 20 minutes from Lisbon, the resort offers the Estoril Wellness center with yoga, Pilates, and beauty treatments. There's also the Banyan Tree Spa with massages and spa treatments, plus a Turkish bath, Jacuzzi, dynamic circuit, and sauna. The resort is surrounded by gardens, and there is an outdoor swimming pool, along with meeting spaces, and the Grill Four Seasons Restaurant with Portuguese and international dishes served in an upscale setting.
Learn more about Palacio Estoril Hotel and Golf
Overlooking the Atlantic Ocean,  The Oitavos is a contemporary resort focused on design and innovation. Located five minutes from the town of Cascais, the family-owned property blends the country's heritage with modern Portuguese style. On the outskirts of Sintra National Park, the resort has a spa with a balneotherapy area, fitness center, and heated outdoor swimming pool. There are multiple dining options, as well as the Oitavos Dunes championship golf course, and activities for guests. 
Check rates at The Oitavos
Explore all Lisbon Luxury Hotels and Resorts
Would you like to receive newsletters and emails with Destination Spotlights? Sign up for our newsletter.
---

Related Hotels