Uniquely Suited: Armani Hotel Dubai
---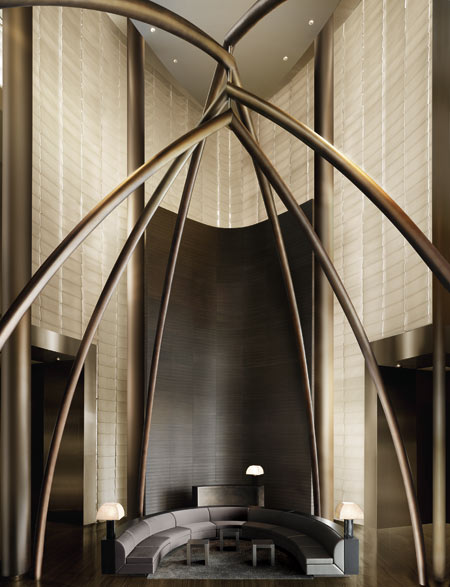 Here at Five Star Alliance, we have a number of superlative hotels, in a very literal sense of the word.  The Armani Hotel Dubai's claim to fame is that, as the name suggests, it is the very first hotel designed by the world famous Giorgio Armani.  Epitomizing the stylistic elegance of the fine suits the same Armani is well known for, the hotel is sleek, modern, minimal, and luxurious.  It's hotel that feels comfortable in its clothes, and it knows it.  From the Eramosa stone floors to the zebrawood panelling, you'll find the Armani brings a unique understanding of unorthodox pairings that somehow feel natural together.  
While you're there, enjoy any one of eight restaurants and relax in a 12,000 sq ft spa whose thermal suites will melt the tension in your muscles like the chocolate from the Armani/Dolci sweets store will melt in your mouth.  
Of special note is the personally designed Armani Dubai Suite with breathtaking views of the Arabian Gulf from your 390 sqm. space 39 floors above the streets below.  Two bedrooms, a spacious living room, and a bathroom with separate shower and bathtub are all uniquely laid out to maximize luxury, and that's not even to mention the full-service bar and pantry.  
The Armani Hotel Dubai is sleek, stylized, and hip and makes every effort to tailor your stay to the exact fit.  In a city made of luxury, the Armani somehow manages to stand out from the crowd, and that's certainly worth a second look.
---