It's Business Time: Jumeirah Emirates Towers Best Business Hotel Dubai
---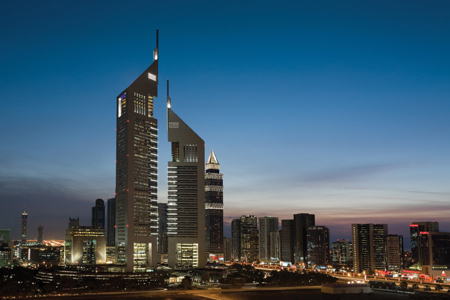 There's a very interesting split in the travel industry between business and leisure travelers. And if you're one of the business types, you know well that you're on the road constantly and the things that matter to you, travel convenience, efficiency, and connectivity, are almost the opposite of what a leisure traveler might want. If the word 'secluded' ever appeared in a hotel description, you'd cross it off the list immediately. So I'm here to use some adjectives you might appreciate hearing in describing some of the world's best business hotels. Today? Dubai.
In a city filled with tower hotels, stretching upward as if to be the first to reach the heavens, one stands out from the rest as a place for the businessman who finds himself in the world's aspiring international mecca of finance. The Jumeirah Emirates Towers spear the sky in the center of the city's bustling business district and serves an architectural marker for the city's great success. Two towers, side-by-side, serve as a dual home for offices and residences, everything the traveling businessman needs, connected by a central shopping podium.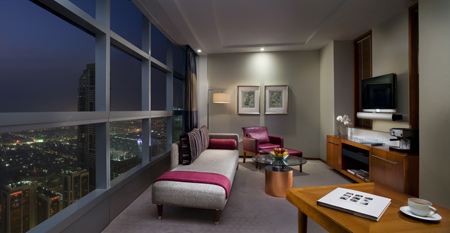 The rooms and services of the hotel are also tailored specifically with the international businessman in mind. Even the standard rooms of the Jumeirah Emirates come with an IT workstation, including 24-hour tech support. An entire floor is reserved specially for female travelers who are looking for a more private, comfortable atmosphere, and rooms there come standard with a cosmetics fridge, in-room yoga mat, and a line of Chopard products. Fine dining is available on-site, and due to the great variety of options in its 15 restaurants, lounges, and bars, you'll never have to travel far for an exquisite meal. Next time you're heading to Dubai to close a business deal, look to The Jumeirah Emirates Towers as the premiere place to stay.
---